2016-2017 Eurocup team lists unveiled
Euroleague unveiled the clubs that will play in Eurocup next season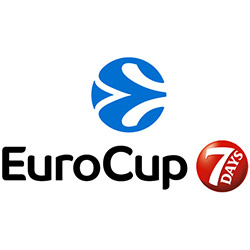 Also on Monday, a list of 24 teams to play in the 2016-17 Eurocup Regular Season was approved. The team list features teams from a total of 12 countries as the Eurocup retains the wide reach that has made it such a popular competition throughout the continent.
The field will feature five former Eurocup champions: Valencia Basket (2003, 2010 and 2014), Hapoel Bank Yahav Jerusalem (2004), Lietuvos Rytas Vilnius (2005, 2009, Khimki Moscow Region (2012, 2015) and Lokomotiv Kuban Krasnodar (2013) and a total of 17 former Euroleague participants.
The teams will be divided into four groups of six teams each playing 10 round-robin games starting October. The best four teams in each regular season group will advance to the Top 16, which will consist of four groups of four teams, which will play six round-robin games beginning in early January 2017. From there, the quarterfinals, semifinals and finals – each consisting of best of three playoff series– will be played in order to decide the 2017 Eurocup Champion, who in turn will qualify for the 2017-18 Turkish Airlines Euroleague.
Here are the 2016-17 Eurocup clubs (WC denotes wild card):
AEK Athens
ALBA Berlin
Buducnost VOLI Podgorica
Cedevita Zagreb
Dinamo Banco di Sardegna Sassari
Dolomiti Energia Trento
Dominion Bilbao Basket (WC)
FC Bayern Munich
FoxTown Cantu (WC)
Grissin Bon Reggio Emilia
Hapoel Bank Yahav Jerusalem
Herbalife Gran Canaria Las Palmas
Khimki Moscow Region
Lietuvos Rytas Vilnius
Lokomotiv Kuban Krasnodar
Nizhny Novgorod (WC)
Partizan NIS Belgrade
ratiopharm Ulm
Stelmet Zielona Gora
UCAM Murcia
Unicaja Malaga
Union Olimpija Ljubljana (WC)
Valencia Basket
Zenit St Petersburg
The group also reviewed other topics including ECA's governance structure, the 2016-17 Bylaws, economic distribution criteria, as well as ticketing incentives for the competition.
The 2016-17 Eurocup Draw will take place on Thursday, July 7 in Barcelona, Spain.