7DAYS EuroCup Quarterfinals set to tip on March 6
Eight teams advanced to the quarterfinals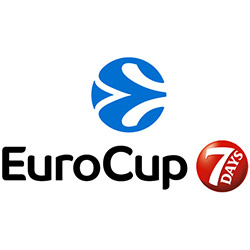 Congratulations to the eight teams still alive in the hunt for the 2018 7DAYS EuroCup crown! Those teams will enjoy a four-week break before the quarterfinals begin. From that point, all of the remaining series will be played in best-of-three formats.
Game 1 of each quarterfinals series will be played on Tuesday, March 6 on the home courts of the Top 16 group winners.
Game 2 will be hosted by the teams that finished second in their Top 16 groups on Friday, March 9. And Game 3, if necessary, will take place on Wednesday, March 14 on the courts where the series openers were played.
The quarterfinals lineup features two past champions (Lokomotiv Kuban Krasnodar and UNICS Kazan) and a past finalist (Herbalife Gran Canaria). Half of the teams (FC Bayern Munich, Gran Canaria, Lokomotiv and Zenit St. Petersburg) are in the quarterfinals for the second straight season and two of them (Bayern and Gran Canaria) are in this stage for the third year running.
The winning teams will start the semifinals on Tuesday, March 20. Home-court advantage in all remaining series will be based on the final Top 16 positions of all teams, thus Lokomotiv, as the only undefeated team in the Top 16, has earned home-court advantage through the finals.
QUARTERFINAL A
Darussafaka Istanbul – Buducnost VOLI Podgorica (March 6, 2018)
Buducnost VOLI Podgorica - Darussafaka Istanbul (March 9, 2018)
Darussafaka Istanbul – Buducnost VOLI Podgorica (March 14, 2018)
QUARTERFINAL B
FC Bayern Munich – UNICS Kazan (March 6, 2018)
UNICS Kazan - FC Bayern Munich (March 9, 2018)
FC Bayern Munich – UNICS Kazan (March 14, 2018)
QUARTERFINAL C
Lokomotiv Kuban Krasnodar - Herbalife Gran Canaria (March 6, 2018)
Herbalife Gran Canaria - Lokomotiv Kuban Krasnodar (March 9, 2018)
Lokomotiv Kuban Krasnodar - Herbalife Gran Canaria (March 14, 2018)
QUARTERFINAL D
Grissin Bon Reggio Emilia - Zenit St. Petersburg (March 6, 2018)
Zenit St. Petersburg - Grissin Bon Reggio Emilia (March 9, 2018)
Grissin Bon Reggio Emilia - Zenit St. Petersburg (March 14, 2018)
Back