Lottery.com and EuroLeague Basketball Ink Three-Year Premier Partnership Deal
Partnership offers fans VIP experiences and prizes, and creates opportunities to raise funds for social and humanitarian causes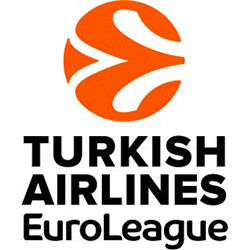 Lottery.com, a world leader in mobile lottery services, has partnered with EuroLeague Basketball, organizer of Europe's premier professional club basketball competitions, in a deal that spans through the 2021 season.
Lottery.com will be featured on court and in arenas throughout both EuroLeague and EuroCup and will be incorporated into all of the league's official platforms. A new in-game feature called Crunch Time Clock will showcase unique stories focusing on the emotions and excitement surrounding the league's most spectacular winning moments as well as Lottery.com's charitable initiatives around the globe.
"We are delighted to welcome Lottery.com," said Jordi Bertomeu, President and CEO of EuroLeague Basketball. "The agreement joins two premium brands together, in addition to providing unique engagement opportunities for our fans and support for our One Team's community efforts to empower social change."
"As part of this innovative partnership, Lottery.com will offer loyal EuroLeague and EuroCup fans raffle tickets and sweepstakes games that give everyone a chance to win amazing prizes," said Tony DiMatteo, CEO of Lottery.com. "These social impact raffles and sweepstakes are intended to generate significant funds for global humanitarian causes and EuroLeague's One Team initiatives."
Lottery.com joins a family of premium sponsors such as Turkish Airlines EuroLeague and the 7DAYS EuroCup. It will go beyond traditional exposure in the communication platforms of EuroLeague Basketball by making an impact in EuroLeague and EuroCup communities in 14 different countries in partnership with One Team, the official corporate social responsibility program of EuroLeague Basketball. One Team's innovative model has its participating clubs create specific projects tailored to its own community needs, to benefit groups in need. The organization has touched the lives of over 16,000 participants to date.
Lottery.com recently launched the sale of its Security Token Offering surrounding the company's global impact raffle and sweepstakes platform, a web- and app-based service that offers a unique approach to mass-scale philanthropy. Appealing to players of games of chance, donations made to humanitarian causes also opt players into regionally appropriate games that provide multiple rewards to winners, including cash prizes. The platform takes a gamification approach to charitable giving, increasing awareness, participation, and donations while providing prize incentives to players.
Learn more about Lottery.com at:
https://lottery.com/
and
https://sto.lottery.com/
EuroLeague Basketball is a global leader in the sports and entertainment business, devoted to delivering European leagues to superior clubs under a unique and innovative organizational model. Owned and managed by some of most successful and historical clubs in the world, EB manages the continent's two premier men's basketball competitions, the Turkish Airlines EuroLeague and 7DAYS EuroCup, as well the sport's premier under-18 showcase, the EB Adidas Next Generation Tournament.
Euroleague Basketball competitions bring the elite of European basketball to all five continents, with broadcasts in over 210 countries and territories, and to the entire sports community through its OTT platform EuroLeague TV. EB also organizes a series of community and educational programs. In addition to its groundbreaking corporate social responsibility program, One Team, its Sports Business MBA trains future professionals in sports management.