CSKA, Madrid, Zalgiris, Fenerbahce head to Final Four in Belgrade
The Final Four is set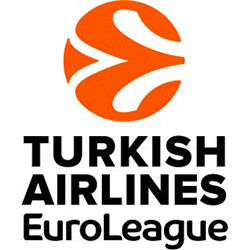 The 2018 Turkish Airlines EuroLeague Final Four is all set after Game 4 of the playoffs on Thursday and Friday opened the door to a quartet of former champions to make their plans for Belgrade! Zalgiris Kaunas advanced to the team's first Final Four this century with an 101-91 victory Thursday to send off last season's runner-up, Olympiacos Piraeus, with a 3-1 upset win in their best-of-five series, to the unbridled delight of 14,000-plus passionate fans at Zalgirio Arena. In the semifinals at Stark Arena on May 18, Zalgiris will play Fenerbahce Dogus Istanbul, which qualified later Thursday by beating KIROLBET Baskonia Vitoria Gasteiz 83-92 on the road to win that series 3-1. In Friday's first game, CSKA Moscow topped cross-town rival Khimki Moscow Region in dramatic fashion, 88-89, to win their series 3-1 and reach its seventh consecutive Final Four. And in Friday's second game, Real Madrid held off visiting Panathinaikos Superfoods Athens by 89-82 in the last Game 4 to win their series by the same 3-1 difference. CSKA and Real Madrid will face off in the other semifinal in Belgrade.
Nineteen years after it lifted its one and only EuroLeague crown, Zalgiris Kaunas is returning to European basketball's signature event! The Lithuanian champs finished the regular season in sixth place, but beat the third-placed Olympiacos on the road in Game 1 in overtime 78-87 to steal the home-court advantage in the series. Zalgiris then wrapped it up by going home to win Game 3 by a score of 80-60 and Game 4 in similar fashion, 101-91. This will be the second Final Four appearance for Zalgiris after its memorable conquest of Munich and the continental title in 1999. Zalgiris head coach Sarunas Jasikevicius, who was the only player in history to win the continental title with three different teams – FC Barcelona, Maccabi Tel Aviv and Panathinaikos Athens – has the chance now to become the fourth person to win the competition as both a player and coach, joining Armenak Alachachan, Lolo Sainz and Svetislav Pesic. One thing is for sure already: Zalgiris Kaunas will be the only team in Belgrade that goes there undefeated in Final Fours!
Reigning champion Fenerbahce may have lost a playoffs winning streak, but it nonetheless made the most of its home-court advantage against Baskonia. The champs won the first two games at home and – after dropping Game 3 in Vitoria to see that 11-game victory streak come to an end – won Game 4 on the road by 83-92 to secure its place in Belgrade. Only CSKA has been able to make it to more than four consecutive Final Fours since the format was adopted in 1988, which says everything about Fenerbahce's recent consistency. Until Fenerbahce reached the 2015 Final Four, no Turkish team had been at the event since 2000, when Efes Istanbul become the first. Fenerbahce lost in the semifinals in 2015 and again in the 2016 championship game after overtime against CSKA, but came back last season to lift the trophy in Istanbul as the EuroLeague's first Turkish champion ever. Fenerbahce's ticket to Belgrade gives Zeljko Obradovic the chance to win his 10th EuroLeague title, something that no other player, coach or even club has done.
With its 88-89 road win over Khimki on Friday, CSKA reached its 15th Final Four in 16 years, arguably one of the greatest achievements in world sports this century. By stopping Khimki 3-1 in their series, CSKA will now seek its eighth EuroLeague title. CSKA had the longest-ever streak of Final Four appearances with eight between 2003 and 2010. Its current streak, begun in 2012, is now up to seven years in a row. No other team has ever been to more than four Final Fours consecutively. Nine of the players who won the EuroLeague with CSKA in 2016, as well as head coach Dimitris Itoudis, are still with the Russian powerhouse. Victor Khryapa is in his 12th Final Four, by far an all-time record, and Kyle Hines can become just the second player – after Dino Meneghin – to win multiple continental crowns with different teams.
Real Madrid, the most successful team in EuroLeague history with nine continental crowns, will be playing its sixth Final Four in the last eight years. Madrid downed Panathinaikos Superfoods Athens by 3-1 in their series, bouncing back from an initial 29-point loss to steal the home court advantage in Game 2 and terminate the series in the Spanish capital with an 89-82 win in Game 4, earning the right to fight for EuroLeague glory at Stark Arena. Last season's EuroLeague MVP Sergio Llull returned to action midway through the playoffs after an eight-month absence. Six of the players that won the EuroLeague title in 2015, the club's first in 20 years, are still with the club. Another one, Sergio Rodriguez, will be leading its semifinals opponent, CSKA. Just as Coach Obradovic, Madrid can lift the EuroLeague trophy for the 10th time and become the first club to do so.