EuroLeague
10/03/2018, 14.43
Video
Turkish Airlines EuroLeague Round 25 MVP: Fabien Causeur, Real Madrid
Fabien Causeur stepped up in a grand fashion on Thursday for a Real Madrid team that was missing its top performer for a key game against a direct opponent in the race for both the playoffs and the home-court advantage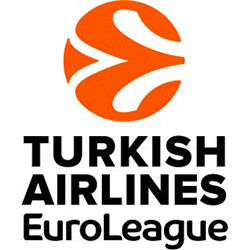 Fabien Causeur stepped up in a grand fashion on Thursday for a Real Madrid team that was missing its top performer for a key game against a direct opponent in the race for both the playoffs and the home-court advantage. Coming off the bench 6 minutes into the game, Causeur not only paced Madrid in an all-important 92-75 win over visiting Panathinaikos Superfoods Athens, but also earned the MVP distinction with the best performance index rating of Round 25. In 26 minutes of the floor, Causeur netted a season-high 26 points and tied his career best in seven EuroLeague seasons by making 8 two-point shots in 10 tries. He also made 2 of 4 triples and 4 of 6 free throws while accumulating 4 assists, 4 rebounds, 1 steal and 1 block for a PIR of 29, another season high for him. Causeur is the second Madrid player to win an MVP of the Round honor this season and it is the second such award of his career. Causeur's backcourt mate Facundo Campazzo and Marcelinho Huertas of Baskonia Vitoria Gasteiz had the second-best index ratings of the round, with 28 each. For Campazzo, that PIR was a career high, as were his 15 points and 5 rebounds in the win over Panathinaikos. Campazzo also had 5 assists and 2 steals. In Baskonia's big 71-81 road win over Valencia Basket, Huertas had 19 points, 7 assists and 1 rebound. Andrew Goudelock of AX Armani Exchange Olimpia Milan had a PIR of 27 in his team's road upset of Khimki Moscow Region. Goudelock netted 26 points to go with 5 rebounds, 2 assists and 1 steal. Rounding out the list of Round 25's top performers is Olympiacos Piraeus big man Nikola Milutinov, who had a career-best PIR of 26. Milutinov scored 16 points on a perfect shooting night, making all 5 of his two-point shots and all 6 free throws, while also collecting 6 rebounds, 2 assists and 1 block in a win over Brose Bamberg.
Individual highs: Vincent Poirier, Baskonia Vitoria Gasteiz, 12 rebounds
Causeur and Goudelock led all scorers in Round 25 with 26 points apiece. Alexey Shved remains the runaway scoring leader with 22 points per game. Baskonia center Vincent Poirier was this round's top rebounder, pulling down a career-high 12 boards. James Augustine of Unicaja Malaga leads the season-long rebounding charts with 6.8 per night. Olympiacos great Vassilis Spanoulis had 8 assists, the most this week. Nick Calathes of Panathinaikos is the season leader with 8.1 assists on average. Another Panathinaikos guard, Mike James, led all players in Round 25 by registering 3 steals. Calathes also leads the EuroLeague in steals this season with 1.55 per game. Three centers – Bryant Dunston of Anadolu Efes Istanbul, Arturas Gudaitis of AX Milan and Madrid's Walter Tavares – had 3 blocks apiece in Round 25. Dunston is the blocked-shot leader with 1.8 per game, with Tavares in second place with 1.6. Poirier had 10 points and 12 rebounds for the only double-double of Round 25.