EuroLeague
29/01/2018, 14.42
Video
Turkish Airlines EuroLeague MVP of January: Nando De Colo, CSKA Moscow
Nando De Colo is the MVP for January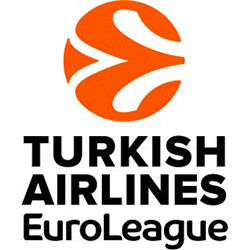 In January, Nando De Colo of CSKA Moscow authored another amazing month in what is becoming one of the finest careers of any player in the history of the Turkish Airlines EuroLeague. With De Colo setting the pace, CSKA extended its lead atop the regular season standings to two victories while winning four games in a row and showing off its league-leading offense by breaking the 100-point barrier twice. As the go-to player for CSKA throughout that surge, De Colo is Euroleague Basketball's choice as the MVP for January. The fabulous Frenchman averaged 18.4 points on 11 of 18 three-point shooting (61.1%) and was perfect on 25 free throw attempts in January. He added 3.0 rebounds, 4.0 assists and 1.4 steals for an average performance index rating of 22.8, the highest among EuroLeague players during the month. De Colo, a former EuroLeague MVP, Final Four MVP and three-time All-EuroLeague selection, joins the select company with the third MVP of the Month award of his career. Only Juan Carlos Navarro, Vassilis Spanoulis and Ante Tomic can match that number.
The MVP of the Month honor is now in its 14th season. Although statistics and performance index ratings are taken into consideration for the award, they alone do not determine who is honored. The winner is named by Euroleague Basketball based on his and his team's performance. The award for January spanned the five regular season games that all teams played between Rounds 16 and 20.
January began on a sour note, with the team's lone defeat of the month, an 85-72 decision at FC Barcelona Lassa, though De Colo did his very best to keep CSKA in the game. He scored a game-high 23 points and tied for the team lead with 6 rebounds and 2 steals in racking up an index rating of 31. CSKA and De Colo bounced back with a vengeance in Round 17 with an 81-107 road rout of AX Armani Exchange Olimpia Milan. De Colo poured in 24 points to lead the way. With its momentum rolling, CSKA dominated Anadolu Efes Istanbul 110-79 in the next game with De Colo missing just 2 shots en route to 15 points and a game-high 7 assists. Two days latercame a tough trip to Panathinaikos Superfoods Athens; De Colo did not put up big numbers in this defensive slugfest, which entered the fourth quarter with the team knotted at 51-51, but he collected a pair of key rebounds and sank a three-pointer to give CSKA a five-point edge with less than 4 minutes left on the way to a 70-75 road win. CSKA returned home for the last game of January and bested Brose Bamberg 81-72; De Colo shined again with 20 points, of which 13 came on free throws. He either led his team in scoring or assists in every game in January. Beyond the numbers, De Colo's confidence and leadership have CSKA headed in the right direction to make yet another Final Four appearance this season.
Consistency has been a hallmark of De Colo's EuroLeague career and he showed why in January, scoring in double figures and delivering at least 3 assists per game, while making 2 or more three-pointers in four of the five contests. At month's end, he ranks third in scoring this season at 16.8 points per game; he is second in three-point accuracy at 51.7%; and he leads the league in free throw shooting at 96.3%. De Colo's career scoring average (16.3 ppg.) now ranks eighth all-time in the EuroLeague and only one player ahead of him, Keith Langford, has more points. De Colo's total of 1,988 points is 25th all-time and, at his current pace, he will crack the top 20 before the end of the regular season. He is 12th all-time with 526 free throws made and first overall in accuracy from the foul line at 93.76%.
De Colo will receive his January MVP award at an upcoming CSKA Moscow home game.