Turkish Airlines EuroLeague Round 17 MVP: Zoran Dragic, Anadolu Efes Istanbul
Dragic is the mvp of the week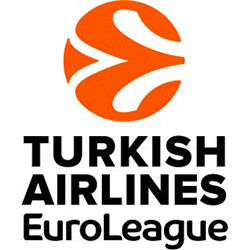 With his team sitting at the bottom of the standings and desperate for a boost, Zoran Dragic's perfect shooting night was just what the doctor ordered for Anadolu Efes Istanbul. The veteran forward put on a career-best performance in a 105-96 win over the visiting Crvena Zvezda mts Belgrade on Friday and earned the second MVP of the Round honor of his Turkish Airlines EuroLeague career in the process. Dragic accumulated a personal-best 34 performance index rating, scoring a career-high 24 points without missing a shot. With no misses as he made 4 two-point shots, 3 threes and 7 free throws, Dragic's point total was the third-highest with perfect shooting in EuroLeague history. He also had 4 assists, pulled down 3 rebounds and drew 5 fouls. This round's second-best PIR, 31, belonged to Nick Calathes of Panathinaikos Superfoods Athens, who had 17 points, on 8-for-10 two-point shooting, 12 assists, a career-high 5 steals, 4 rebounds and 4 fouls drawn in a home win over FC Barcelona Lassa. Dejan Musli of Brose Bamberg ranked third this week with a career-high PIR of 29 in a road loss to Maccabi FOX Tel Aviv. Musli scored a personal-best 20 points to go with 7 rebounds, 1 assist and 1 block. Rounding out the list of top performers in Round 17 are James Gist of Panathinaikos and Will Clyburn of CSKA Moscow, each with an index rating of 27 in their team's victories. Gist had 17 points, 6 rebounds, 2 assists, 2 steals, 1 block and 7 fouls drawn against Barcelona. Clyburn collected 15 points, 9 rebounds, 4 assists, 3 steals and 1 block in a rout of AX Armani Exchange Olimpia Milan.
Individual highs: Nick Calathes, Panathinaikos, 5 steals
Dragic and CSKA's Nando De Colo were the top scorers of Round 17, each netting 24 points. Alexey Shved of Khimki Moscow Region remains league's top scorer with 21.9 points per game. Nicolo Melli of Fenerbahce Dogus Istanbul was this round's top rebounder with 11 boards. Khimki's injured center Thomas Robinson leads all qualified players this season with 7.8 rebounds per contest. Calathes had 12 assists, the most of any player in this week and the sixth time this season that he has dished double-digit assists. Calathes increased his average to 8.3 assists, well atop the season-long rankings. Calathes also led all players in Round 17 with his career-high 5 steals and in so doing now tops that category for the season, too, with 1.9 steals per game. Milan's Kaleb Tarczewski and the Maccabi duo of Artsiom Parakhouski and Jonah Bolen all had 3 blocks this round. Bryant Dunston of Efes is the EuroLeague leader with 1.7 rejections on average. There were three double-doubles this round; Calathes with 17 points and 12 assists, Bolden with 10 points and 10 rebounds, plus Kostas Sloukas of Fenerbahce with 11 points and 10 assists.