EuroLeague
06/01/2018, 13.35
Video
Turkish Airlines EuroLeague Regular Season Round 16 MVP: Malcolm Thomas, Khimki Moscow
Thomas earned his first career MVP of the Round honors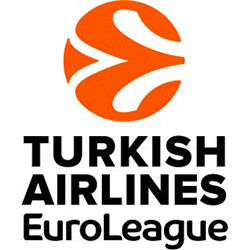 With his team Khimki Moscow Region battling on the road against a fellow playoff contender Brose Bamberg, big man Malcolm Thomas stepped up to the plate with a career night and an all-round performance, leading a team to a much-needed victory on Friday night. In the process, Thomas earned his first career MVP of the Round honors. Thomas scored a career-high 16 points, making 5 of 7 two-point shots, hitting his only three-point attempt and making 3 of 5 free throws. He pulled down 7 rebounds, including 5 on the offensive end, and also had 4 steals, 3 assists and 2 blocks before fouling out with two minutes to go in the game. However it was enough for Thomas to set his new career-high performance index rating of 28, which was the highest among players on winning teams in Round 16. The highest index rating of the round belongs to Pierre Jackson of Maccabi FOX Tel Aviv who had 32 in his team's loss against Real Madrid. Jackson scored a career-high 29 points, on 6-for-8 two-point and 4-for-8 three-point shooting, along with 6 rebounds, 5 assists and 8 fouls drawn. Nando De Colo of CSKA Moscow had the second-best index rating of Round 16. In a loss against FC Barcelona Lassa, De Colo's 23 points, 6 rebounds, 3 assists, 2 steals and 8 drawn fouls accumulated a PIR of 31. Taylor Rochestie of Crvena Zvezda mts Belgrade had an index rating of 26 in victory over Zalgiris Kaunas. Rochestie scored 16 points, dished 10 assists, had 4 rebounds and career-high 4 steals. Rounding out the top performers of this week is Nick Calathes of Panathinaikos Superfoods Athens. Returning to action after missing three games, Calathes had 17 points, 9 assists, 3 rebounds and 3 steals for PIR of 25 in victory over Anadolu Efes Istanbul.
Individual highs: Walter Tavares of Real Madrid, 12 rebounds
Pierre Jackson's 29 points led all players in Round 16. Khimki's Alexey Shved, who scored 28, increased his lead among season's top scorers, now averaging 21.8 points per game. Walter Tavares of Madrid had a career-high 12 rebounds to lead all players this round. Khimki's injured big man Thomas Robinson remains as the league rebounding leader among qualified players with 7.8 per contest. Taylor Rochestie had 10 assists, the most of all players in Round 16. Calathes is the league leader in assists, averaging 8 per game. Rochestie and MVP Thomas had 4 steals to lead all players in that category this week. Brad Wanamaker of Fenerbahce Dogus Istanbul is top of the steals leaderboard this season with 1.9 per game. Tavares had 3 blocks, more than any other player this round. Bryant Dunston of Efes is EuroLeague's shot-blocking leader with 1.7 per game. There were four double-doubles in Round 16. Dorell Wright of Brose had 20 points and 10 rebounds, Fenerbahce's Jason Thompson collected 12 points plus 10 rebounds, Tavares had 10 points and 12 rebounds while Rochestie combined 16 points and 10 assists.