EuroLeague
25/11/2017, 13.52
Video
Turkish Airlines EuroLeague Round 9 MVP: Edgaras Ulanovas, Zalgiris Kaunas
The Lithuanian player is the MVP of Round 8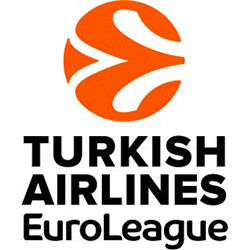 Trying to help his team snap a home-floor losing streak, Edgaras Ulanovas used his career-night to play a perfect role of igniting the Zalgiris Kaunas offense on Thursday, and in the process earned himself Round 9 MVP honors, the first such award in his fourth Turkish Airlines EuroLeague season. Ulanovas scored 20 of his career-high 22 points in the first half of the 91-83 win over Anadolu Efes Istanbul. He hit all 5 two-point shots and all 6 free throws, and shot 2-of-4 from three-point range. Ulanovas also had 7 rebounds, including a career-high 4 on the offensive glass, as well as dishing 4 assists and making a career-best 2 blocks. It all accumulated into a performance index rating of 32, another career-high, and the most of all players in Round 9. Two players sat behind Ulanovas as Round 9's best performers with an index rating of 28. Brose Bamberg's hero Ricky Hickman not only made 3 free throws with 2.1 seconds remaining to complete an improbable rally against Valencia Basket, but he finished the game with 26 points, shooting 3-of-4 two-pointers and 5-of-8 from three-point range, along with 4 assists, 2 steals and 1 rebound. Big man Arturas Gudaitis of AX Armani Exchange Olimpia Milan matched his career-best PIR 28, which he set a month ago, by scoring 19 points on 6-of-8 from two-point land, pulling down 10 rebounds, and drawing 6 fouls in a tight home loss against Olympiacos Piraeus. Another player with a career-high index rating was James Nunnally of the reigning champion Fenerbahce Dogus Istanbul who accumulated a PIR of 27, scoring 20 points on 4-of-5 three-pointers, 3 rebounds, 3 assists, 2 steals and 4 drawn fouls in victory over Khimki Moscow Region. Rounding out the top performers of Round 9 is James Augustine of Unicaja Malaga, who had quite a night in a losing effort against his former team CSKA Moscow. Augustine collected 18 points plus 9 rebounds and 1 steal, for an index rating of 26.
Individual highs: Bryant Dunston of Anadolu Efes Istanbul, 5 blocks
Brose's Hickman netted 26 points, leading all scorers in Round 9. Luka Doncic of Real Madrid kept the lead in the scoring race with 19.7 points per game ahead of Khimki's Alexey Shved who is averaging 19.4 per contest. Kevin Seraphin of FC Barcelona Lassa led all rebounders with 11 this week. Madrid's injured big man Gustavo Ayon remains as EuroLeague's leader in rebounding with 8 per game. Nick Calathes of Panathinaikos Superfood Athens had 8 assists, the most of any player this round. Calathes kept his lead atop this category with 7.4 dishes per night. His teammate K.C. Rivers, along with Barcelona's Rakim Sanders and Ricky Ledo of Efes, each had 3 steals in Round 9. Ayon still leads the league with 1.8 steals per contest. Bryant Dunston of Efes had 5 blocks, the most of all players this week. Dunston also jumped to a lead among the shot-blockers this season, now averaging 1.8 per game. The only double-double this round belongs to Gudaitis, who had 19 points and 10 rebounds.