EuroLeague
16/11/2017, 13.22
Video
EuroLeague Round 7 MVP: Errick McCollum, Anadolu Efes Istanbul
Errick McCollum of Anadolu Efes earns the MVP honor for Round 7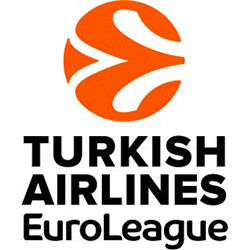 One of the finest shooting performances in recent years turned into something extra for Errick McCollum of Anadolu Efes Istanbul, whose hot hand not only led his team to a huge road win, but also earn him the MVP honor for Round 7. McCollum made his seventh Turkish Airlines EuroLeague a memorable one, scoring 31 points on 8-for-11 three-point shooting in a resounding 72-92 win over host Maccabi FOX Tel Aviv. McCollum's point total was the highest in a EuroLeague game this season and his 8 three-pointers made were the most in the competition in three years. The Efes guard caught fire early, making his first 6 threes before halftime. He also had 4 rebounds and 3 assists on the way to a performance index rating of 33 in 27 minutes off the bench. McCollum follows Vladimir Stimac as the second straight MVP of the Round from Efes. the second-best performance of the round belonged to Jeff Brooks of Unicaja Malaga, whose PIR of 29 couldn't prevent his team from losing an overtime thriller against visiting Zalgiris Kaunas on the last shot. Brooks posted career-highs with 16 points, 11 rebounds and 2 blocks, while also picking up 2 steals and 6 drawing fouls. Behind him with an index rating of 27 was Curtis Jerrells, who joined AX Armani Exchange Olimpia Milan less than a week ago. In his first game with his old team, a 98-103 double-overtime road win against host Valencia Basket, Jerrells collected 30 points on 5-of-7 two-point and 6-of-11 three-point shooting to go with 4 rebounds and 3 assists. Rounding out top performers of Round 7 were Kyle Hines of CSKA Moscow and Rakim Sanders of FC Barcelona Lassa, both with PIRs of 26. Hines was everywhere with 13 points, 7 rebounds, 3 steals, 2 assists and 2 blocks in 16 minutes of an easy road win over Crvena Zvezda mts Belgrade, while Sanders posted 17 points, 6 rebounds, 4 assists, 3 steals and drew 6 fouls in his team's heartbreaking loss at Brose Bamberg.

Individual highs: Bryant Dunston, 5 blocks

The 31 points by McCallum and the 30 by Jerrells were the two best single-game scoring shows of the week and of the season so far. Luca Doncic of Real Madrid continues to lead all scorers with 20.7 points per game. Stimac's 13 rebounds for Efes topped all players in Round 7. Injured Madrid center Gustavo Ayon has the highest average still, with 8. Nick Calathes of Panathinaikos Superfoods Athens, with 11, was the sole player to dish double-figure assists on Tuesday or Wednesday. Thomas Heurtel of Barcelona is the league leader with 7.1 per games, just ahead of 7.0 for Calathes. Kostas Papanikolaou made 4 steals, the best total of the round. Charles Jenkins of Khimki Moscow Region has a league-leading average of 2.0. Efes center Bryant Dunston's 5 blocks were the most in any game this season, lifting him into an overall tie with Ayon at 1.6 per game. Stimac (15 and 13), Brooks (16 and 11) had double-doubles in points and rebounds, while Calathest (11 and 11) did so in points and assists.