EuroLeague
28/10/2017, 13.07
Video
EuroLeague Round 4 MVP: Luka Doncic, Real Madrid
Doncic is once again the MVP of the Week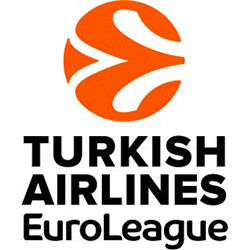 For the second time in a row and the sixth occasion since December, Real Madrid whiz kid Luka Doncic is the MVP of the Round after inspiring his team to its latest impressive victory. The 18-year-old guard scored a career-high 28 points during Madrid's resounding 66-87 victory at Zalgiris Kaunas on Thursday night, which allowed the Spanish giant to reach the end of Round 4 as one of only two unbeaten teams in the competition. Doncic achieved his feat in just 27 minutes on the floor, with 24 of his points coming after halftime. He converted 9 of his 13 field goal attempts (5 of 7 two-pointers and 4 of 6 shots from behind the arc) along with all 6 of his free throws. Doncic also pulled in 9 rebounds and dished 4 assists for a personal index rating of 35 – the highest of all players in Round 4. This is the second time the precocious Doncic has won back-to-back MVP honors in his short career, and he also becomes the first player to win two MVP awards in the same week, having also taken the prize following Round 3's games on Tuesday and Wednesday. The second-highest index rating in Round 4 was achieved by DeShaun Thomas of Maccabi FOX Tel Aviv, whose PIR of 31 came in a losing cause as his 28 points – powered by 4 of 6 three-point attempts – couldn't prevent his team from falling to defeat at Crvena Zvezda mts Belgrade. Three players were tied with the next-best PIR, starting with Zvezda's James Feldeine, who registered 19 points, 8 assists and 4 steals for an index rating of 26 in his team's thriller over Maccabi. Alexey Shved of Khimki Moscow Region also had a PIR of 26, scoring 23 points and dishing 5 assists as his team lost their unbeaten record at Olympiacos Piraeus. And the same index rating was achieved by CSKA Moscow star Nando De Colo, who combined 18 points with 5 assists in his team's 80-98 win at Anadolu Efes Istanbul.

Individual leaders: Dorell Wright and Tibor Pleiss: 4 blocked shots

The leading scorers in Round 4 were Doncic and Thomas with their 28 points – new EuroLeague career highs for both. Doncic also leads the league in scoring for the season, averaging 24 points per game, ahead of Valencia Basket's Erick Green with 20. Arturas Gudaitis of AX Armani Exchange Olimpia Milan and Khimki's Thomas Robinson were the joint leading rebounders of the round with 11 boards. Will Clyburn of CSKA Moscow, with an average of 8.3 rebounds per game, leads the league in that category for the season. Feldeine's 8 assists saw him top that chart for Round 4 alongside Valencia's Sam Van Rossom. FC Barcelona Lassa's Thomas Heurtel still leads the way in the overall assist charts with 7.5 per game. Feldeine also claimed Round 4's joint highest number of steals with 4, the same as CSKA's Othello Hunter, leaving Feldeine's season average just behind leader Rudy Fernandez of Real Madrid, who averages 2.3 per game. Two players were tied with 4 blocked shots: Tibor Pleiss of Valencia and Brose Bamberg's debutant Dorell Wright. Madrid's Gustavo Ayon and Panathinaikos center Chris Singleton are the top shot blockers so far this season with 1.8 blocks per game. Only one player recorded a double-double in Round 4: Khimki's Robinson, with 19 points and 11 rebounds.