EuroLeague
08/05/2017, 15.08
Video
Alphonso Ford Top Scorer Trophy goes to Keith Langford of Unics
Langford is the Top scorer of EuroLeague season 2016-2017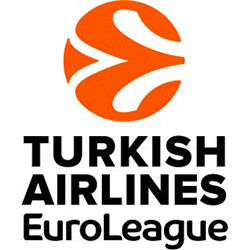 After scoring the most points ever in a single Turkish Airlines EuroLeague season and averaging the most by any qualified player this decade, Keith Langford of Unics Kazan has more than earned the Alphonso Ford Top Scorer Trophy for the 2016-17 season. The Ford Trophy is awarded annually to the EuroLeague player with the highest scoring average over a minimum number of games. It is the EuroLeague's only end-of-season award that does not rely on voting by fans, media or coaches, but is based solely on statistics. Langford averaged 21.75 points while appearing in 28 games this season to win the award. Not only did Langford score in double figures in all of his 28 games, but he reached the 20-point mark 19 times and set a EuroLeague season-high by posting 36 points in one game. Langford's scoring average was the second highest since the award was introduced in 2004, just a notch below Marc Salyers, who recorded 21.79 points per game in 14 appearances for Chorale Roanne of France in the 2007-08 campaign. Langford was also the Ford Trophy winner while playing for EA7 Emporio Armani Milan in 2014, making him just the second player to earn this award twice.

Langford became the first and only player so far to break the 600-point milestone in a single EuroLeague season, finishing with 609 points. It did not take him long at the start of the season to start piling up that tally. After being limited to 14 points in Round 1 against FC Barcelona Lassa, Langford went on a tear. He dropped at least 22 points in 11 of his next 12 appearances. He started the streak with 24 points against Brose Bamberg and set his career high when he dropped 36 in a road loss to CSKA Moscow. No player would surpass that total in any game this season. Langford followed that with 28 points and 10 rebounds in an upset road win at Fenerbahce Istanbul, earning one of his three MVP-of-the-round honors this season.

Langford's streak of games with 20 or more points was briefly snapped in Round 9 at Real Madrid, but he went on to score at least 25 points in five consecutive appearances, including games against three eventual playoff teams: Olympiacos Piraeus, Baskonia Vitoria Gasteiz and Panathinaikos Superfoods Athens. Over a 12-game span, Langford averaged a massive 27 points per night. Among the highlights was a Round 17 performance of 27 points, 10 rebounds and 5 assists – his second double-double of the season – at home against Bamberg. Later, in Round 21, Langford started another streak of six games with 20 or more points scored. Apart from his single-season record for total points, Langford made the most free throws ever (168) on the most attempts (202), as well, for two more all-time marks. Last year's Ford Trophy winner, Nando De Colo of CSKA Moscow, finished second in scoring with 19.6 points per game, followed by Andrew Goudelock (17.3 ppg.) of Maccabi FOX Tel Aviv and Sergio Llull (16.5 ppg.) of Real Madrid.

This was the third consecutive season with Unics for Langford, whom the basketball world got to know at University of Kansas, which he led to back-to-back NCAA Final Four appearances before starting his professional career. His first European experience came in the Italian second division in 2006-07. After splitting the next season between San Antonio in the NBA and Biella in Italy, Langford returned to Europe for good and made his EuroLeague debut with Khimki Moscow Region in 2009. After helping Khimki win the 2011 VTB United League, he moved to Maccabi Tel Aviv and they won the 2012 Adriatic League, the Israeli League and the Israeli Cup together. In 2013-14, the second of his two seasons with Milan, Langford not only won his first Ford Trophy by averaging 17.6 points per game, but also led the team to its first EuroLeague playoffs appearance this century. He was All-EuroLeague First Team selection that season and led Milan to the Italian League title, too.

Langford is the second player to win the Alphonso Ford Top Scorer Trophy multiple times in the its 13-years existence. Igor Rakocevic won it in 2007, 2009 and 2011. The other eight Ford Trophy winners are: De Colo; Taylor Rochestie of Nizhny Novgorod (2015); Bobby Brown (2013) and Bo McCalebb (2012), both of Montepaschi Siena; Linas Kleiza of Olympiacos Piraeus (2010); Salyers; Drew Nicholas of Benetton Treviso (2006); and Charles Smith of Scavolini Pesaro (2005).

The trophy is named in memory of Alphonso Ford, who died of leukemia in September 2004 after a brilliant career in which he was the competition's leading scorer twice, in 2000-01 and 2001-02, both seasons with Olympiacos. He subsequently led Siena in scoring as it reached the 2003 Final Four. The Ford Trophy is the first in a series of EuroLeague end-of-season honors. Other awards to be announced shortly include the EuroLeague Best Defender, the EuroLeague Rising Star and the All-EuroLeague honorees. The MVP award will be announced at the upcoming Final Four, between May 18 and 21 in Istanbul. The Alexander Gomelskiy Coach of the Year Trophy and the EuroLeague Club Executive of the Year are post-season awards.