Turkish Airlines Euroleague Round 24: Team of the Week
Wanamaker, Bogdanovic, Simonovic, Brown and Tillie. Coach Ataman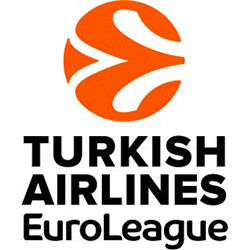 Brad Wanamaker (Darussafaka Dogus)
In a key game for the playoffs, Wanamaker scores 24 points with 6 rebounds, 3 assist and 2 steals to lead Darussafaka Dogus to a clutch win vs. Panathinaikos.
Bogdan Bogdanovic (Fenerbahce)
14 points, 4 rebounds, 2 assists and 7 steals in 21 minutes on the court. The Serbian is ready for the NBA.
Marko Simonovic (KK Crvena Zvezda)
The Serbian champions are closer to reach the EuroLeague playoffs. In win against Bamberg Simonovic has 13 points, 9 rebounds and 20 of evaluation shooting with 5 for 8 from the field.
Derrick Brown (Anadolu Efes Istanbul)
Brown is one of the best players of the current EuroLeague and he showed once again against Unics Kazan. In 30 minutes on the court Brown has 24 points, 5 rebounds and 30 of evaluation.
Kim Tillie (Baskonia)
19 points in 24 minutes on the court in Baskonia's win vs. Olimpia Milano. The French adds 5 rebounds, 3 assists and 3 steals for 31 of evaluation.
Coach Ergin Ataman (Galatasaray)
His Galatasaray made the miracle by beating Real Madrid despite Schilb and Preldzic suspended.