EuroLeague Regular Season Round 5 MVP: Keith Langford, Unics Kazan
Langford is the MVP of Round 5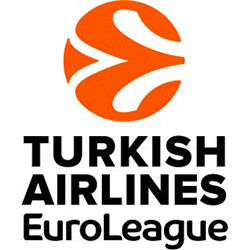 He is the hottest player in the Turkish Airlines EuroLeague right now and after his big game on Wednesday in Istanbul, Keith Langford of Unics Kazan is also the MVP for Round 5 of the regular season. Langford led his team to a stunning 73-81 upset of last season's runner-up, Fenerbahce Istanbul, with 28 points, 10 rebounds and a performance index rating of 36, which was the most of any player on a winning team in Round 5. The league's top scorer, Langford also dished 4 assists and took a beating as he drew 10 fouls in ending Fenerbahce's 23-game home-court winning streak. Zalgiris Kaunas big man Paulius Jankunas matched Langford's 36 index rating, but his team fell 80-83 at home to Darussafaka Dogus Istanbul. Jankunas scored 21 points in 7-of-9 shooting, plus 7 for 7 from the free throw line. He also posted 11 rebounds, 3 assists and 2 steals. Langford had competition for the week's best performance from teammate Art Parakhouski, who amassed a 33 index with 20 points on 9-of-10 shooting, 12 rebounds, 2 steals and 2 blocks. Rakim Sanders of EA7 Emporio Armani Milan set a few career highs in his return to Bamberg, with which he made his EuroLeague debut three years ago, but it wasn't enough as his team fell 106-102. Nonetheless, Sanders racked up the fourth-highest index rating of the week with 31. He scored 25 points with 3-of-4 three-point shooting and added 3 rebounds, 3 assists, 1 steal and 1 block. Rounding out the top performances of the week was Tyler Honeycutt of Anadolu Efes Istanbul, who erupted for 15 points, 13 rebounds and 4 assists in a double-overtime 91-83 victory over Panathinaikos Superfoods Athens. Honeycutt finished with a performance index rating of 28.
Individual leaders: Nick Calathes of Panathinaikos Superfoods Athens – 12 assists
Langford was once again the round's top scorer and in doing so extended his lead atop the full-season charts by raising his average to 24.8 points per game. Anadolu Efes big man Tyler Honeycutt topped the weekly rebounding charts with 13 boards. He sits atop the standings for the season too, with 9 rebounds per game. Nick Calathes of Panathinaikos sent out more assists than any other player in Round 5 with 12. October MVP Milos Teodosic remains atop the standings this season with an average of 8.6 assists per game. Galatasaray Odeabank Istanbul forward Emir Preldzic and his Darussafaka counterpart Adrien Moerman each established career-highs with 5 steals, which were also the most of the week in the EuroLeague. Tyrese Rice of FC Barcelona Lassa is averaging 2.4 steals per game, which leads all players. Fenerbahce center Ekpe Udoh, who set a EuroLeague record for blocks last season, rejected 3 shots to lead the Round 5 stats. Parakhouski is the leader for the season with 1.8 blocks per game. There were 9 double-doubles in Round 5, and five of them came in the same game: Bryant Dunston (12 points, 11 rebounds), Derrick Brown (11 and 11) and Honeycutt had double-doubles for Efes, while James Gist (12 points, 11 rebounds) and Calathes (10 points, 12 assists) posted them for Panathinaikos. Joey Dorsey (11 points and 11 rebounds) of Barcelona had a double-double, as well as aforementioned Langford, Parakhouski and Jankunas.