EuroCup
05/10/2018, 17.42
Video
7DAYS EuroCup Regular Season Round 1 MVP: Maurice Ndour, Unics Kazan
The opening round of the 7DAYS EuroCup Regular Season had some great performances, but no player shined brighter than UNICS Kazan forward Maurice Ndour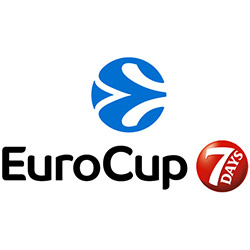 The opening round of the 7DAYS EuroCup Regular Season had some great performances, but no player shined brighter than UNICS Kazan forward Maurice Ndour. In the best opening-round performance seen in the EuroCup in three years, Ndour set a number of career highs and was unstoppable as UNICS topped competition newcomer Mornar Bar on the road 74-97. Ndour scored 29 points on 11-for-12 two-point shooting and went a perfect 7-for-7 from the free throw line. He also pulled down 7 rebounds, dished 1 assist, and drew 5 fouls, accumulating a performance index rating of 41. That matched the highest PIR in a non-overtime Round 1 game in EuroCup history. Ndour scored 21 points before halftime, including 12 points in the opening 6 minutes, which set the tone and put UNICS ahead by double digits already. In addition to setting career highs in PIR, points, rebounds and two-point shots made, his two-point shooting performance matched the fifth-best in competition history, just one made shot below the perfect 12-for-12 that Robertas Javtokas had more than a decade ago.
The second best PIR of Round 1 belongs to Zenit St. Petersburg point guard Brandon Jennings, who had 20 points, 9 rebounds and 8 assists for an index rating of 30 in his team's home win over Turk Telekom Ankara. Tied for the third place are a pair debutant centers, Zach Auguste of Galatasaray Istanbul and Michael Ojo of Crvena Zvezda mts Belgrade, and a young forward making his first appearance in the top five, Axel Bouteille of Limoges CSP. All had PIRs of 29. Ojo compiled 14 points, 10 rebounds and 2 blocks in Zvezda's win over ratiopharm Ulm. Auguste collected 18 points, 8 rebounds, 5 blocks, 3 assists and 2 steals in a victory over MoraBanc Andorra. And Bouteille amassed 24 points and 5 rebounds as Limoges defeated visiting Cedevita Zagreb.
Ndour's 29 points led all scorers in Round 1. The leading rebounders were Luke Sikma of ALBA Berlin and Ojo, each with 10 boards. Peyton Siva of Alba had 14 assists, five more than any other player in Round 1. Quantez Robertson of FRAPORT Skyliners Frankfurt and James Florence of Arka Gdynia each had 5 steals, while Auguste led the way with 5 blocks.