EuroCup Board looks ahead to the 2018-19 season
Board members reviewed the proposed list of 24 teams to play in the continent's second-tier club competition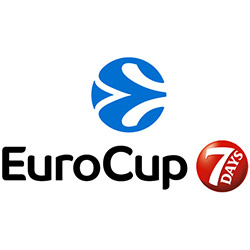 The EuroCup Board met in Barcelona, Spain on Thursday to review the success of the recently finished 2017-18 season and plan for a new edition of the 7DAYS EuroCup.
The success of the 2017-18 season could be seen in exponential gains in viewership, reach and engagement across multiple social media platforms, where the focus of the fans is rising rapidly. Compared to 2016-17 there were 2,000% more video views on Instagram, 543% more video views on Facebook and 520% more video views on Twitter. The soaring numbers were due in part to the increased production of video content thanks to the EuroCup's centralized broadcast production and content distribution under Euroleague Basketball's joint venture with IMG.
Looking ahead, the board also heard about ongoing media rights negotiations that promise to bring the 2018-19 7DAYS EuroCup to more territories than before. Already, TV partners have been secured for next season in 10 European countries, as well as in North America, Asia Pacific, Africa and the Middle East. All EuroCup games next season will be streamed live in the United States of America by new broadcast partner FloSport. Negotiations are underway in eight more European markets, including three that did not carry the EuroCup last season, pointing towards a greater reach for the competition in the near and mid-term future.
Board members reviewed the proposed list of 24 teams to play in the continent's second-tier club competition. The list features clubs from nine Domestic Leagues and at least 11 countries. Teams will play in four regular season groups of six teams each, with 16 teams advancing to a Top 16 phase that features four groups. Eight teams will qualify from the Top 16 for the best-of-three quarterfinals, to be followed by best-of-three semifinals and best-of-three finals.
The list of teams includes Crvena Zvezda mts Belgrade, Cedevita Zagreb, Mornar Bar, Partizan NIS Belgrade, AS Monaco, Limoges CSP, ASVEL Villeurbanne, the runner-up of the ongoing German League finals between FC Bayern Munich and ALBA Berlin, Brose Bamberg, ratiopharm Ulm, Dolomiti Energia Trento, Brescia Leonessa, Fiat Turin, Rytas Vilnius, Asseco Gdynia, Zenit St Petersburg, UNICS Kazan, Lokomotiv Kuban Krasnodar, Valencia Basket, MoraBanc Andorra, Unicaja Malaga, Tofas Bursa and Galatasaray Odeabank Istanbul. The final team will be determined in the coming days. The demand for participation in the EuroCup is such that 19 clubs from eight different countries who did not qualify for the 2018-19 season applied to register in the competition.
The final team list for the 2018-19 7DAYS EuroCup will be submitted for approval to the ECA Shareholders Executive Board on June 19 and to the subsequent ECA Shareholders Meeting on July 6. On that same day, the EuroCup Clubs Meeting will take place prior to the 2018-19 7DAYS EuroCup Draw, which marks the official start of the new season.