7DAYS EuroCup Semifinals MVP: Scottie Wilbekin, Darussafaka
This season is the first time in the 16-year history of the competition that EuroLeague Basketball is announcing an MVP for each stage of the season and Wilbekin is the first player to win two such awards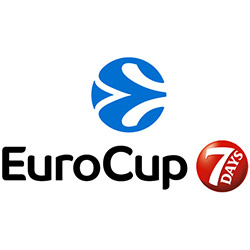 Scottie Wilbekin of Darussafaka Istanbul sprinkled his magic all over his team's 7DAYS EuroCup Semifinals sweep of FC Bayern Munich, including a monster performance that shattered records in Game 2 on the road. Not only did Wilbekin make history by leading Darussafaka to the competition's championship series for the first time, but he also earned the honor as 7DAYS EuroCup Semifinals MVP. This season is the first time in the 16-year history of the competition that EuroLeague Basketball is announcing an MVP for each stage of the season and Wilbekin, who also claimed 7DAYS EuroCup Regular Season MVP honors, is the first player to win two such awards.
Wilbekin torched the EuroCup record book in Game 2 when he erupted for 41 points on 10-of-15 three-point shooting plus 5 assists for a performance index rating of 44 as Darussafaka topped Bayern. His point total and triples were EuroCup records for non-overtime games and the highest index rating in a series-clinching game in over a decade. After posting 24 points and 7 assists in Game 1, Wilbekin's 32.5 points tied for the best scoring average in any EuroCup series (along with Andrew Goudelock for UNICS Kazan against CEZ Nymburk in the 2014 eighthfinals) and his 13 three-pointers made is the most in any EuroCup series. He also averaged 6.0 assists per game in the series, which was the most of any player in the semifinals this season.
For the season, Wilbekin leads the EuroCup in scoring with 18.9 points per game, is tied for second with 1.6 steals per game and ranks fourth in assists with 5.1 per game. His 52 three-pointers made is tied for the second-most in the EuroCup this season.