7DAYS EuroCup Semifinals Game 2 MVP: Scottie Wilbekin, Darussafaka Istanbul
Wilbekin dominated Game 2 vs. Bayern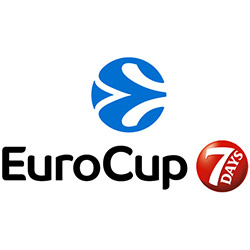 Darussafaka Istanbul made it to the 7DAYS EuroCup Finals for the first time in club history as superstar guard Scottie Wilbekin earned the MVP honor for semifinals Game 2 on Friday with a one-of-kind performance. Wilbekin's 41 points and 10 three-pointers set competition records for non-overtime games. He added 5 assists and 2 steals for a PIR of 44, the third-best in semifinals history. Most important, Wilbekin's efforts led Darussafaka to an 83-87 road win that was good enough to sweep FC Bayern Munich in their best-of-three semifinal series. Between points and assists, Wilbekin accounted for 48 of Darussafaka's 87 points. Mardy Collins of still-undefeated Lokomotiv Kuban Krasnodar reached a season-high PIR of 31 in his team's win against Grissin Bon Reggio Emilia. Collins had a season-high 22 points on 9-of-12 two-points shots, adding 8 rebounds, 3 assists, a steal and 7 fouls drawn. His teammate Frank Elegar had 19 points on 8-of-9 two-point shots, 9 rebounds and 2 blocks for a PIR of 25.
Individual highs: Micheal Eric, Darussafaka Istanbul, 4 blocks
Wilbekin led all scorers in Game 2 with 41 points and was also the best scorer in the semifinals (32.5 ppg., twice as much as everyone else). Elegar pulled down 9 rebounds in Game 2. Elegar and Eric were the best rebounders in this phase at 9 per game. Stefan Jovic of Bayern dished 6 assists, more than anyone else in Game 2. Wilbekin led the semifinals in assists at 6 per game. Manuchar Markoishvili of Reggio Emilia collected 3 steals in Game 2 of the semifinals. His teammate Jalen Reynolds led this phase with 2 steals per night. Eric had 4 blocks against Bayern. Reynolds was the best shot blocker in the semifinals, averaging 3 over the two games.