EuroCup
21/03/2018, 15.05
Video
7DAYS EuroCup Semifinals Game 1 MVP: Micheal Eric, Darussafaka Istanbul
Eric posted career highs of 18 points, 11 rebounds and a performance index rating of 30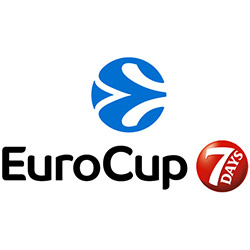 The 7DAYS EuroCup Semifinals started with a bang when Darussafaka Istanbul roared back from 23 points behind to win its opening game with FC Bayern Munich on the buzzer and jump ahead in the best-of-three series. The main engine behind that reaction was Micheal Eric, who earned MVP honors. Eric posted career highs of 18 points, 11 rebounds and a performance index rating of 30, which was 10 times his PIR total in the Darussafaka's two quarterfinal games. It was also the third double-double in his two EuroCup seasons. Eric's 6 offensive boards matched the second most in a semis game this decade. Eric's teammate Scottie Wilbekin had the second highest PIR of the opening night with 23, which included 24 points, 7 assists and 8 fouls drawn. Completing the top individual performances for Game 1, three players tied with a PIR of 20 each: Frank Elegar of Lokomotiv Kuban Krasnodar, Jared Cunningham of FC Bayern Munich and Jalen Reynolds of Grissin Bon Reggio Emilia.
Individual highs: Wilbekin soars with 24 points and 7 assists


Wilbekin was also the top scorer of Game 1 with his 24 points, but Amedeo Della Valle of Reggio Emilia – who missed Game 1 due to injury – remains the top scorer of the season with his 17.8 average. Eric also led the battle under the glass with his career-high 11 rebounds, even if Reynolds tops the rankings with his 7.6 this season. Wilbekin also led the list of best passers last night with 7 assists, but Chris Kramer of eliminated Lietuvos Rytas Vilnius still leads the overall rankings with 7.4 per game. Several players tied with 2 steals apiece in Game 1, including Eric, Reynolds, Bayern's Stefan Jovic and Braydon Hobbs, and Darussafaka's Dogus Ozdemiroglu. Howard Sant-Roos of Darussafaka is still the steals king this season (2.2 spg.). Finally, Reynolds reigned supreme in the paint with his 4 blocks, the most by any player in the opening games. Stephane Lasme dominates at ease the season rankings despite UNICS Kazan being eliminated (2.5 bpg.).