EuroCup
01/02/2018, 14.27
Video
7DAYS EuroCup Top 16 Round 5 MVP: Danilo Barthel, FC Bayern Munich
Barthel paved the way for Bayern's 107-81 win over FIAT Turin with a performance index rating of 42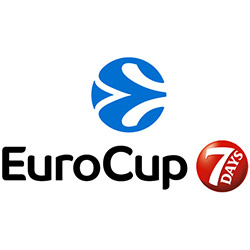 With only one more round to go in the Top 16, there are still some things to be sorted. However, two teams managed to advance to the quarterfinals in Round 5, Herbalife Gran Canaria and FC Bayern Munich. The latter had a decisive push from Danilo Barthel, who led his team with a performance that earned him an MVP of the Round honor for the second time this season. Barthel paved the way for Bayern's 107-81 win over FIAT Turin with a performance index rating of 42, the best of the Top 16 so far and the second-highest all season. Barthel matched career highs with his 21 points and 8 rebounds, but also got new personal bests in PIR (42), assists (5) and blocks (3). What's more, his 6 offensive boards were a Bayern club record in the EuroCup. Second in the MVP race this week was UNICS Kazan's Quino Colom, whose PIR of 35 allowed his team to defeat ASVEL Villeurbanne on the road in overtime. Colom netted 20 points, pulled 9 rebounds, dished 7 assists and drew 9 fouls for a great all-around performance. Completing the top individual performances of the round, Melvin Ejim of UNICS (PIR 34) followed his teammate, Colom, while Lamar Patterson of Turin (PIR 30) and Jorge Gutierrez of Dolomiti Energia Trento (PIR 27) finished fourth and fifth, respectively.
Individual highs: Chris Kramer, Rytas, 12 assists
Patterson led all scorers this week with 27 points, while Amedeo Della Valle of Grissin Bon Reggio Emilia remains the top scorer for the season at 18.6 per game. Furkan Aldemir of Darussafaka Istanbul was huge under the glass with 14 boards, while Zenit St Petersburg big man Drew Gordon comfortably leads the season ranking again (8.0 rpg.). The assists leader of the season, Chris Kramer of Lietuvos Rytas Vilnius, also topped all of this round's passers with 12 assists, a new career high for him. Kramer stands atop the season rankings with 7.2 on average. On the defensive end, Trevor Lacey of Lokomotiv Kuban Krasnodar collected 5 steals, the most in Top 16 Round 5, while Howard Sant-Roos of Darussafaka still leads for the season (2.3 spg.). Under the boards, Stephane Lasme had another huge night with 5 blocks, just one short of his personal record. He dominates the season rankings, too, with 2.6 blocks per game.