7DAYS EuroCup Top 16 Round 4 MVP: Martynas Echodas, Lietuvos Rytas Vilnius
Echodas led his team to a vital 101-68 win against FIAT Turin by scoring a career-high 22 points in 23 minutes of action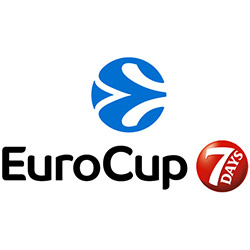 The fourth round of the 7DAYS EuroCup Top 16 saw three teams advance to the quarterfinals, while a few others avoided elimination to retain hopes for doing the same. One such survivor was was Lietuvos Rytas Vilnius, for whom young center Martynas Echodas put up a huge performance that earned him the MVP of the Round honor. Echodas led his team to a vital 101-68 win against FIAT Turin by scoring a career-high 22 points in 23 minutes of action. His output included making 7 of 8 two-point shots and 8 of 11 free throws. He also had 4 rebounds as Rytas set a competition record in non-overtime games with 58. With 1 assist and 8 fouls drawn, Echodas piled up a personal-best performance index rating of 29, the most this week among winning players, and at 20 years and 6 months old, he became the youngest EuroCup MVP of a round in more than three years. In the overall spectrum of performances this week, UNICS Kazan's Stephane Lasme was at the top of the list with a PIR of 32 thanks to his 18 points and 10 rebounds, but since those came in a 76-75 loss to Grissin Bon Reggio Emilia, he was not eligible for the MVP honor. The same thing happened to his teammate Quino Colom, who matched Echodas's PIR of 29 this round. Completing the top performances of the round are FC Bayern Munich's Devin Booker (PIR 28) and Darussafaka Istanbul's Muhammed Baygul (PIR 26).
Individual leaders: Forray beats personal mark with 24 points
In the individual stats categories, Toto Forray of Dolomiti Energia Trento exploded this round for 24 points, a personal best for him and the best mark this week. Amedeo Della Valle of Reggio Emilia jumped back at the top of the season rankings with an average of 18.6 points per game. Under the boards, Richard Hendrix's career-high 13 were the most this round and helped Galatasaray Odeabank Istanbul win at Herbalife Gran Canaria to stay alive in the Top 16. Drew Gordon of Zenit St Petersburg re-claimed the top spot in the rankings with an average of 7.8 boards. Colom of UNICS, with 11, was the only player to accumulate assists in double figures. Chris Kramer of Rytas remains the assists king for this season with 6.8 per game. On the defensive end, Evgeny Valiev of Zenit was the only player of the round to reach 4 steals, while Darussafaka's Howard Sant-Roos still tops the overall rankings (2.4 spg.). Ivan Lazarev of Zenit and Zoran Nikolic of Buducnost VOLI Podgorica had 2 blocks each to lead in that category, while Lasme's 2.4 on average still tops the season rankings.