EuroCup
07/12/2017, 14.22
Video
EuroCup Regular Season, Round 7 MVP: John Roberson, ASVEL Villeurbanne
Roberson led ASVEL to a club-record 19 shots made from the arc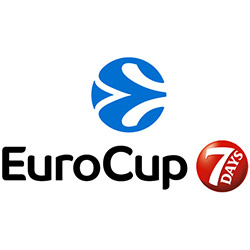 When the dust settled on Round 7 of the 7DAYS EuroCup Regular Season, six teams had qualified for the Top 16, but one group remained as tight as they come. ASVEL Villeurbanne held its own in that killer Group D with a vital 84-94 road win at ratiopharm Ulm that earned John Roberson his first MVP of the Round honor. His stellar long-distance shooting, hitting 8 of 10 three-pointers, set a new club record that also matched the second-best personal mark ever in the competition. What's more, Roberson led ASVEL to a club-record 19 shots made from the arc, also tying the second-most for a team in EuroCup history. He finished with 25 points to go with 3 rebounds, 2 steals and 5 assists in over 29 minutes. It all added up to a performance index rating of 30, the best of the week and of his rookie season, not to mention ASVEL's highest since Tony Parker had 40 back in 2011. Two players followed Roberson this week with a PIR of 28 each: Richard Hendrix of Galatasaray Odeabank Istanbul and Ryan Broekhoff of Lokomotiv Kuban Krasnodar. Hendrix netted 18 points and pulled 9 rebounds in an 82-72 home win over Grissin Bon Reggio Emilia. Broekhoff posted 20 points and pulled 5 boards as Lokomotiv beat host ALBA Berlin 84-89. Completing the best individual performances of the week were ASVEL's Darryl Watkins and Ulm's Ryan Thompson with PIRs of 27 apiece.
Individual leaders: Sant-Roos, Darussafaka, 7 steals
Veteran guard Roko Ukic of Cedevita Zagreb led all Round 7 scorers with his best night ever in the competition, 27 points against Darussafaka Istanbul. The new scoring leader in the competition is Darussafaka's Scottie Wilbekin with 19.0 points per game. Ondrej Balvin of Herbalife Gran Canaria was a giant under the glass with 14 rebounds, the best mark this week. He ranks second overall behind season leader Drew Gordon of Zenit St Petersburg (8.6 rpg.). Alex Renfroe of Galatasaray flirted with a triple-double as he led all players in assists this week with 10. Chris Kramer of Lietuvos Rytas Vilnius is still the season-long leader at 7.6 on average. At the defensive end, Howard Sant-Roos of Darussafaka swiped 7 steals, the most by any player this season, and also leads the overall season rankings at 2.3 per game. Finally, Stephane Lasme of UNICS Kazan had as many as 3 blocks this round, which helped him stay at the top of the season rankings with 2.0 on average.