EuroCup
02/11/2017, 14.24
Video
EuroCup Regular Season, Round 4 co-MVPs: Peyton Siva and Trevor Lacey
There are two MVPs this week in EuroCup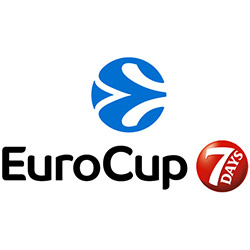 Two players share the MVP honor for Round 4 of the 7DAYS EuroCup Regular Season after leading their teams to the top of the same group. Lokomotiv Kuban Krasnodar (4-0) and ALBA Berlin (3-1) won their respective games in Group C to secure sole possession of first and second place. Trevor Lacey of Lokomotiv and Peyton Siva of ALBA posted performance index ratings of 31 each, the highest among winning players this round, to become co-MVPs of Round 4. Lacey led Loko with 20 points and 7 assists in the best game so far of his EuroCup debut season, a 102-86 victory over visiting RETAbet Bilbao Basket. Siva had career highs with 26 points and 4 three-pointers, plus added 4 rebounds, 9 assists and 3 steals for a solid overall performance in ALBA's 93-86 home win against Lietuvos Rytas Vilnius. The best performance of the week came in a losing effort and belonged to Amedeo Della Valle of Grissin Bon Reggio Emilia, who post a PIR of 37, a career high for him. Della Valle also set personal marks with 1 block, 4 steals and 7 assists in his best game in three EuroCup seasons with Reggio Emilia. However, Della Valle, who is having the best season of his career, was not eligible to receive the MVP honor because his team lost at home by 61-63 to Hapoel Bank Yahav Jerusalem.
Individual leaders: Cepukaitis, 12 rebounds, 4 blocks
The most productive scorer of Round 4 was ratiopharm Ulm's Ryan Thompson with 28 points in defeat. Della Valle still tops the season-long charts at 22.5 points per games. Under the glass, Vaidas Cepukaitis of Lietkabelis Panevezys had a career-best 12 rebounds, the most in Round 4 Drew Gordon of Zenit St Petersburg is the overall leader with 10.3 boards per game. In the assists department, Zenit's Scottie Reynolds and Lietuvos Rytas Vilnius's Chris Kramer were this week's best with 10 apiece. Baris Ermis of Tofas Bursa leads the overall rankings with 6.8 per game. On defense, Richard Hendrix of Galatasaray Odeabank Istanbul led all players with 5 steals, while Toto Forray of Dolomiti Energia Trento has the highest average (2.8) through four games. Finally, Cepukaitis had another career high with 4 blocks this round. Three players lead the rankings of blocks with 1.8 per game: Lasme, Mam Jaiteh of Limoges CSP and Josh Owens of Tofas.