EuroCup
26/10/2017, 14.19
Video
EuroCup Regular Season, Round 3 MVP: Nigel Williams-Goss, Partizan NIS Belgrade
The third round of the 7DAYS EuroCup revealed several surprises and upsets as things start to take shape in the standings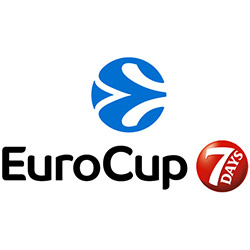 The third round of the 7DAYS EuroCup revealed several surprises and upsets as things start to take shape in the standings. One team that staged one of those upsets for its first victory was Partizan NIS Belgrade, led by Nigel Williams-Goss, who earned the Round 3 MVP honor with a performance index rating of 34, the highest among winning players. Williams-Goss led Partizan to a 92-96 road win at RETAbet Bilbao Basket with 27 points, 8 rebounds, 3 assists and 6 fouls drawn. Next in line this week was Tofas Bursa's Pierria Henry, whose PIR of 31, behind 19 points, 8 rebounds, 3 assists and 4 steals, allowed his team to take a great road win at Dolomiti Energia Trento. Frank Elegar of Lokomotiv Kuban Krasnodar and Amedeo Della Valle of Grissin Bon Reggio Emilia completed the top individual performances this week with PIRs of 30 apiece. However, the best individual performance of the week was in fact by Zenit St Petersburg's Drew Gordon, whose PIR of 36 was the highest this week. He scored 20 points and pulled 18 rebounds, but since his team lost its game, Gordon was not eligible for the weekly award.
Individual leaders: Gordon gets career-high with 18 boards
Several players scored more than 20 points this round, and two of them sat at the top of the rankings: Austin Daye of Hapoel Bank Yahav Jerusalem and Raymar Morgan of Tofas Bursa with 28 points each, career highs for both. Della Valle is the overall leader with 22.3 per game through three rounds. Under the glass, Gordon was the undisputed leader one more week with his 18 boards, a career best for him, as were both his 7 offensive boards and the 11 defensive boards. Gordon dominates the overall rankings with 13.3 per game. Joe Ragland of Lokomotiv was the best passer of the week with his 9 assists. Baris Ermis of Rofas and Andrew Albicy of MoraBanc Andorra each average 7 through three games. On the defensive end of the court, four players had 3 steals each, the most in this round: David Lighty of ASVEL Villeurbanne, Ryan Broekhoff of Loko, Jerome Dyson of Hapoel and Henry of Tofas Bursa. The highest average through 3 games belongs to Toto Forray of Trento. Last, but not least, seven players managed to stop two shots this week with as many blocks each. Stephane Lasme of UNICS Kazan is the league leader with 2.3 per game.