EuroCup
19/10/2017, 14.35
Video
EuroCup Regular Season, Round 2 co-MVP's: Rokas Giedraitis and Jalen Reynolds
Two MVPs for EuroCup Round 2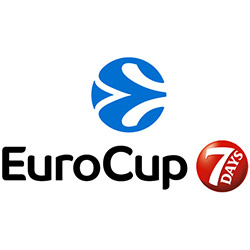 The Regular Season groups are starting to take shape after two rounds of thrilling results across the continent. Two players stood tall among the rest to lead their teams to respective wins with a performance index rating each of 31, which granted them weekly MVP honors: Rokas Giedraitis of Lietuvos Rytas Vilnius and Grissin Bon Reggio Emilia's Jalen Reynolds. Giedraitis soared with career-highs of 28 points - including 6 of 7 twos and 5 of 8 threes - and 7 rebounds in just 18 minutes on the court. Reynolds started for Reggio Emilia to contribute a huge double-double of 23 points (11 of 15 twos) and 14 rebounds, plus 4 drawn fouls, sending a message in just his second 7DAYS EuroCup appearance ever. Four more players completed the top individual performances of the week, each of them with a PIR of 29: Amedeo Della Valle of Reggio Emilia (27 points, 5 assists), Scottie Wilbekin of Darussafaka Istanbul (23 points, 5 assists), John Roberson of ASVEL Villeurbanne (21 points and 5 assists) and Josh Owens of Tofas Bursa (16 points and 8 rebounds).

Individual leaders: Gordon and Reynolds, 14 rebounds apiece

More names stood out this week in each of the distinct individual categories. However, Giedraitis was still the top scorer of the round with his 28 points while Della Valle came close behind with his 27. Under the glass, Drew Gordon os Zenit St Petersburg continues the trend of last season with his 14 boards, just as many as co-MVP Reynolds. Rakeem Christmas of Galatasaray Odeabank Istanbul came in close with 13. Quino Colom of Unics Kazan was the only player dishing assists in double digits this week with his 10. On the defensive end of the court, another Unics player, Jamar Smith, shined with his 4 steals, while several players managed to get 2 blocks apiece this round.