7DAYS EuroCup Regular Season, Round 1 MVP: Luke Sikma, ALBA Berlin
He had 19 points, 4 assists and 4 steals for ALBA Berlin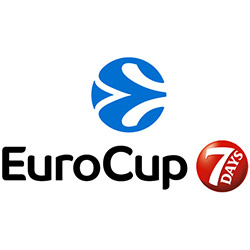 October 12, 2017. Their home debut in the new 7DAYS EuroCup season could not have gone much better for ALBA Berlin and its new forward, Luka Sikma, who earned the right to be called MVP for Round 1 of the regular season. Sikma was a driving force in ALBA's resounding 111-85 victory over Partizan NIS Belgrade on Wednesday in Group C. It was the most points ever in a non-overtime EuroCup game for ALBA, while Sikma established four career highs to start his third season in the competition, after two with Valencia Basket. The son of former NBA great Jack Sikma posted 19 points on 7-for-9 two-point shooting while making his sole three-point attempt and both of his free throws. His other EuroCup career-high stats were 4 assists, 4 steals and a performance index rating of 31, the best among the 12 games played Tuesday and Wednesday. Following Sikma in second place was Hapoel Bank Yahav Jerusalem guard Curtis Jerrells, who had 23 points, 6 assists, 4 rebounds and 3 steals for PIR of 30 his team's road loss to Lietkabelis Panevezys. In third place was veteran big man Trevor Mbakwe, whose near-perfect night led FIAT Turin to a thrilling 83-86 road win at Cedevita Zagreb in its EuroCup debut. Mbakwe piled up a PIR of 28 behind 20 points on 6-of-7 two-point and 8-for-8 free throw shooting. He also pulled 5 rebounds. Next came Lietkabelis big man Ksistof Lavrinovic, whose index rating of 27 was based on 20 points with 8 rebounds and 3 assists in his team's win over Jerusalem. Dejan Todorovic of RETAbet Bilbao Basket was fifth with 20 points, 7 rebounds and 2 assists for performance index rating 26 in his team's 83-93 win at Lietuvos Rytas Vilnius.
Individual leaders: Stephane Lasme of UNICS Kazan, 4 blocks
The top scorer of Round 1 was ratiopharm Ulm's Joseph Lewis, who poured in 26 points in a season-opening win over visiting Tofas Bursa on Tuesday. Ondrej Balvin of Herbalife Gran Canaria and Furkan Aldemir of Darussafaka Istanbul led all rebounders, pulling down 9 boards in the opening round. Meanwhile, Bayern's Stefan Jovic dished 11 assists to lead the way in that category. Jovic was not the only player with double-digit assists, as Baris Ermis of Tofas had 10 in his first EuroCup game since 2012. Sikma, this round's MVP, also led all players in steals, with 4, his career high. Finally, Stephane Lasme of UNICS Kazan led all players in Round 1 with 4 blocks.