Andrea Bassani appointed to head EuroCup media rights commercialization
Andrea Bassani is the new 7DAYS EuroCup Media Manager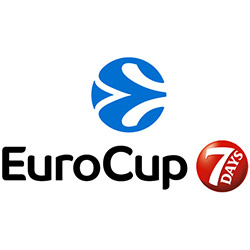 Andrea Bassani, former Euroleague Basketball Chief Television & New Media Officer, has been appointed as the 7DAYS EuroCup Media Manager and will head the new centralized media rights structure for the competition. Bassani, who was one of the founding members that led the creation of the EuroLeague in 2000, has led the media rights distribution of the Turkish Airlines EuroLeague for the last 17 years with great success, culminating in a 10-year partnership with industry leader IMG in 2015.
Euroleague Basketball and IMG recently announced that its partnership would be expanded by agreeing to also jointly manage the collective centralized media rights of the second-tier European club competition, the EuroCup, and implementing a similar management model of that of the EuroLeague, which has delivered unprecedented results.
"We are excited to count on Andrea's long and valuable experience to drive this new 7DAYS EuroCup project," Jordi Bertomeu, Euroleague Basketball President & CEO, said. "Since we created the EuroLeague 17 years ago, he had an enormous responsibility in taking the EuroLeague to what it is today, and we are delighted to have him taking that experience to the EuroCup now."
This strategic appointment shows the strong determination of Euroleague Basketball and IMG to raise the profile of the EuroCup, grow the commercial return for its clubs and increase the distribution of its games globally.