7DAYS EuroCup MVP for 2016-17: Alexey Shved, Khimki Moscow Region
The Russian guard is the MVP of the season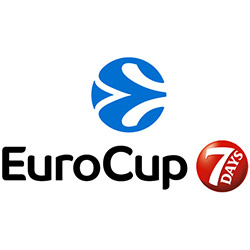 Euroleague Basketball is proud to announce that Alexey Shved of Khimki Moscow Region has been selected as the 7DAYS Eurocup Most Valuable Player for the 2016-17 season. Shved, a virtually unstoppable offensive force, had one of the most dominant individual seasons ever in the EuroCup, finishing as the only player in competition history to average at least 22 points, 5 assists and 4 rebounds. Shved's league-leading 22.1 points per game was also the highest scoring average among qualified EuroCup players this decade, and the fifth-most in competition history for any player with at least 10 games in a season. Shved scored at least 15 points in each of the 14 games he played for Khimki. Remarkably, for a player who ranked fourth in minutes played, with more than 31 per contest, Shved also led the EuroCup with 28.3 points prorated over 40 minutes. Additionally, Shved also led the EuroCup in performance index rating (22 per game) and three-pointers made (3.4) while also ranking sixth in average assists (5.2). Naturally, he led Khimki in all those categories as the team reached EuroCup quarterfinals, and was also second on the team with averages of 4 rebounds and 1.2 steals.

The 7DAYS Eurocup MVP is part of an awards structure that recognizes the finest Eurocup players for their efforts on the court throughout the season. Shved's selection was based on the voting of both fans and a panel of Euroleague Basketball's in-house experts. The list of previous Eurocup MVPs includes: last season's winner, Errick McCollum of Galatasaray Odeabank Istanbul; 2015 MVP Tyrese Rice of Khimki Moscow Region; 2014 MVP Andrew Goudelock of Unics Kazan; 2013 MVP Nick Calathes of Lokomotiv Kuban Krasnodar; 2012 MVP Patrick Beverley of Spartak St. Petersburg; 2011 MVP Dontaye Draper of Cedevita Zagreb; 2010 MVP Marko Banic of Bizkaia Bilbao Basket; and 2009 MVP Chuck Eidson of Lietuvos Rytas Vilnius.

Shved missed the first two games of the season due to an ankle injury, but upon stepping on court for the first time, he scored 15 points in only 20 minutes in a 30-point road win over ALBA Berlin. Shved was just starting his engines, however, and went on to top that tally in every other appearance this season. In the remaining four regular season games, Shved averaged 20.5 points and 4.8 assists, which turned out to be just a sign of things to come. During the Top 16, Shved took his game to another level. After scoring 21 points against Liekabelis Panevezys and 16 points against FC Bayern Munich, he began running on all cylinders. In back-to-back games against ratiopharm Ulm, he scored 28 points in a 90-95 road win, then had a season-high of 32 points and dished 8 assists in 85-84 home win, earning his first MVP of the week award. He proceeded to net 23 points on 5-for-7 three-point shooting against Lietkabelis as Khimki clinched a place in the quarterfinals, before scoring 31 points in the last game of the Top 16 against FC Bayern Munich. Shved finished the Top 16 averaging 25.1 points – 6.5 points higher than the next player – along with 5.3 assists, 4 rebounds, 1.3 steals and a PIR of 25.7 per game. As Khimki moved on to the EuroCup Quarterfinals, not even playing against the competition's top defense could not stop him. Shved had 24 points, 7 assists and 5 rebounds in a Game 1 loss to Valencia Basket. Then he earned his second MVP honor of the season in Game 2 after nearing a triple-double of 17 points, 11 assists and 8 rebounds in huge 98-74 win that sent the series to a deciding third game. Shved scored 21 points in Game 3, but Valencia won that contest 92-76, ending Khimki's season.

Shved, who turned 28 years old in December, is in the second season of his second stint with Khimki. He first played for the club as a teenager in the 2006-07 season, a year before making his Turkish Airlines EuroLeague debut with CSKA Moscow and winning the continental title in 2008. Shved had grown up and spent most of his career with CSKA, playing at least parts of six pro seasons there, ending with the EuroLeague championship game in 2012. Shved also played in his native Russia for CSKA-Trinta Moscow, CSK VVS Samara and Dynamo Moscow, the latter being the club with whom he made his EuroCup debut in the 2009-10 campaign. Shved has also spent three seasons in the NBA, from 2012 until 2015, playing with Minnesota, Philadelphia, Houston and New York. Shved is a member of the Russian national team, which he helped win bronze medals at EuroBasket 2011 and at the 2012 Olympic Games in London.