7DAYS EuroCup Quarterfinals, Game 1 MVP: Fernando San Emeterio, Valencia Basket
San Emeterio is the MVP of the day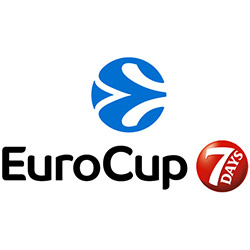 The 7DAYS EuroCup Quarterfinals started with a bang this week as the opening games of the best-of-three series saw all home teams get wins. One of them, Valencia Basket, triumphed 88-82 against visiting Khimki Moscow Region in a re-match of the 2012 final. Valencia was led by Fernando San Emeterio, whose performance index rating of 29 earned him the MVP honor for Game 1 of the quarterfinals. San Emeterio, whose PIR was a career-best for him in the EuroCup, paced Valencia with 17 points. He added two more personal bests with 8 rebounds and 5 assists while also drawing 8 fouls for a great all-around performance. San Emeterio made 5 of 7 two-point shots and 4 of 4 free throws. Following him in Game 1, on the other side of the same court, was Khimki's Alexey Shved, with a PIR of 24 thanks to his 24 points, 5 rebounds, 7 assists and 2 steals. The best individual performances of the round were completed by Jerome Dyson of Hapoel Bank Yahav Jerusalem (PIR 21) and EJ Rowland also of Khimki (PIR 20).

Individual highs: Shved, Rowland team up for 14 Khimki assists

The top scorer this season was also the best converter in Game 1 of the Quarterfinals, as Shved netted 24 points (4 of 9 twos, 3 of 12 threes and 7 of 7 free throws). He was followed by Dyson with 20 points and San Emeterio with his 17. Valencia's Bojan Dubljevic was huge once again under the glass and was the only player to pull rebounds in double digits, 11. His efforts helped Valencia break the EuroCup all-time record for offensive rebounds (27) in any game and total rebounds (57) in a non-overtime game. Rowland and Shved were the best passers with 7 assists apiece, joined in that number by Curtis Jerrells of Hapoel. On the defensive end of the court, no player had more than 2 steals, but Travis Peterson of Hapoel was the best stopper in the paint with his 3 blocks.