Valencia sets rebounding records in playoffs opener
Three-time 7DAYS EuroCup champion Valencia Basket celebrated Game 1 of the playoffs on Tuesday with a pair of rebounding feats never seen before in the 15-year history of the competition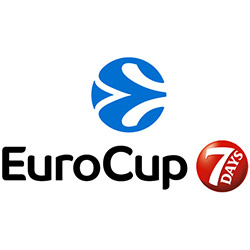 Three-time 7DAYS EuroCup champion Valencia Basket celebrated Game 1 of the playoffs on Tuesday with a pair of rebounding feats never seen before in the 15-year history of the competition.
In its 88-82 home win over Khimki Moscow Region, a two-time former champion, Valencia dominated the boards so much that it set one definitive EuroCup rebounding record and established a second mark on the boards that was a first-time occurrence.
Valencia's 27 offensive rebounds were the new EuroCup record, surpassing by 1 the previous mark of 26 as shared between two teams. MHP Riesen Ludwisburg of Germany had 26 in the 2015-16 regular season, just as Ural Great of Russia did so way back in 2002. Valencia's tour de force on the glass featured eight players pulling 2 or more offensive rebounds. They were led by Bojan Dubljevic with 5 and Will Thomas with 4.
Valencia's overall rebound total of 57 for the night were the third-most in these last 15 years, but the most taken by any EuroCup team ever in a non-overtime game. Previously, ALBA Berlin pulled 61 rebounds in a five-overtime game in 2007 and Lukoil Academic of Bulgaria had 60 in a triple-overtime game back in 2003. Again, Dubljevic led the charge for Valencia with 11 total rebounds, followed by Fernando San Emeterio with 8, Thomas and Luke Sikma with 7 each.
Valencia will visit Khimki for Game 2 of their best-of-three quarterfinal series on Friday in Moscow.