Ranking - Best 5 players who did not qualify for Eurocup Top 16
Kloof, Buva, Jankovic, Scoot and Savovic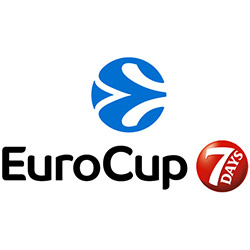 TOP 1.- Charlon Kloof
has been a consistent player for KK MZT Skopje. The 26 year-old point guard averaged 9,3 points, 6,5 asists and 15,3 of PIR. Kloof showed an extraordinary talent on both sides of the court. His powerful legs allow him attack the rim to score, assist, or get an advantage. Kloof was pulled up for a foul 5,3 times per game. The Suriname player dropped 15 points (7/7 2-pointers), grabbed 6 rebounds and dished out 9 assists for 26 PIR against Nizhny Novgorod.
TOP 2.- Ivan Buva
led a disappointing Bilbao Basket with 13,1 points, 4,4 rebounds and 13,9 PIR per game. The Croatian center arrived to Bilbao last summer from Scandone Avellino . He provided the team with a solid three-point shooting. He averaged 44 percent from the three-point line. His best game was against Alba Berlin in the 7th round, where he scored 14 points, grabbed 8 rebounds for 22 PIR.
TOP 3.- Nikola Jankovic
is a successful representative for Union Olimpija Ljubljana. The 22 year-old center position has averaged a total of 9,9 points, 6,7 rebounds and 13,3 PIR per game. Jankovic's performances illustrate that he has gained a huge reinforcement because of his skills. Jankovic was the most fouled player during the Eurocup. Players have been pulled up for a foul on the Serbian 5,7 times per game. Jankovic scored 16 points and has impressed fans with 8 rebounds over Lokomotiv Kuban.
TOP 4.- Josh Scoot
tried to help KK MZT Skopje but no luck. He averaged 12,1 points, 7 rebounds and 15,9 PIR per game. Josh Scott was extremely efficient thanks to player like Charlon Kloof who assist him.Shooting 62% around the rim as a finisher. The american center dropped 22 points and grabbed 12 rebounds against Herbalife Gran Canaria. He needs to be more consistent.
TOP 5.- Despite Boris Savovi
c's effort, it was not enough to get Buducnost a win. The power forward averaged 12,7 points, 5,3 rebounds and 12,3 of PIR per game. The Veteran showed a solid three point shooting routine, canning 43,3 percent of his shots from the distance. In the first round against UCAM Murcia, Savovic was able to score 22 points, grabbed 11 rebounds for 25 performance Index Rating.
Written by JC Ruiz