7DAYS EuroCup Round 5 Final Results
Round 5: Halfway home!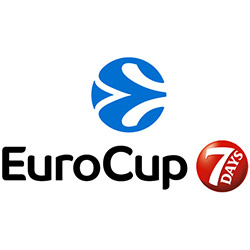 The 7DAYS EuroCup reached its midway point with eight Round 5 games. Herbalife Gran Canaria Las Palmas of Group A was the only team to get to this point without a loss, while Lietuvos Rytas Vilniua collected its maiden victory in Group B. Half of the round's games were won by the visiting teams, which left a three-way tie for first place in Group D, while in Group B, two wins separate first place from fifth.

Group A
Herbalife Gran Canaria Las Palmas kept its perfect record intact by routing winless MZT Skopje Aerodrom on the road 75-98. Gran Canaria improved to 4-0, two wins ahead of the second-placed trio of teams, and came one win – or one MZT loss – away from clinching a Top 16 spot. The visitors jumped out to a commanding lead early on, and cruised to victory behind 19 points from Kyle Kuric and 15 apiece from Eulis Baez and Royce O'Neale. Josh Scott amassed a double-double of 22 points and 12 rebounds in defeat. Cedevita Zagreb rallied from a large second-half deficit to down visiting Nizhny Novgorod 92-77 in the Croatian capital. Both teams stand at 2-2 and together with the idle Lietkabelis Panevezys share second place in the standings. Nizhny led by 15 points midway through the third quarter, but Pierre Jackson, Marko Tomas and Miro Bilan fueled a big comeback as Cedevita used a 26-4 fourth-quarter run to pull away to win. Jackson amassed 38 points on 6-for-8 three-point shooting, while Bilan recorded a double-double of 18 points and 11 rebounds. Ivan Strebkov netted 21 with 8 rebounds and 6 assists in defeat.

Group B
Two-time EuroCup champion Khimki Moscow Region grabbed its third win in Group B by downing RETAbet Bilbao Basket 72-91 at La Casilla on Wednesday. Khimki moved up to 3-1 in Group B, while Bilbao dropped to 1-3. Khimki hit 12 three-pointers on the night, and used a 0-10 run early in the second quarter to pull away to double digit lead it never relinquished. Alexey Shved led the winners with 23 points and Jacob Pullen and Sergey Monya each added 14 for the visitors, while Alex Mumbru led Bilbao with 20 points. Lietuvos Rytas Vilnius registered its first win of the season by topping visiting Montakit Fuenlabrada 101-84 in the Round 5 opener on Wednesday. Rytas used a 16-2 first quarter run to pull away for good and never looked back, outrebounding the visitors 45-20 and improving to 1-3 at the midway point of the regular season. Veteran guard David Logan starred with 27 points and 9 assists and big man Arturas Gudaitis collected 17 points and 11 rebounds in victory. Xavi Rey had 15 for Fuenlabrada, which dropped to 2-2, while Marko Popovic scored 13, enough to reach 1,147 points for his EuroCup career and tie Chuck Davis for second place all-time.

Group C
Unicaja Malaga recorded its first-ever EuroCup home win by edging Zenit St. Petersburg 93-86. Both teams now have a 2-2 records in Group C. Jamar Smith led the winners with 22 points, while Carlos Suarez collected 18 points and 11 rebounds in a game in which Unicaja secured victory in the final two minutes, as Smith and Suarez hit back-to-back three-pointers to turn a 2-point lead into an 89-81 advantage. Ryan Toolson led Zenit with 35 points against his former team; he made 7 of 18 shots from downtown. Stefan Markovic, who also played for Unicaja in the past, dished 14 assists for the guests. FC Bayern Munich dominated from start to finish on the road, beating winless Buducnost VOLI Podgorica 44-68 for its third straight win and a share of first place in Group C with idle UCAM Murcia. Bayern controlled things from the get-go, and used defense that allowed only 5 points in the second quarter to go into halftime up 17-31, and only continued to increase the margin after the break. Buducnost scored the fewest points in a single game in club history. Devin Booker led all Bayern scorers with 10 points in victory.

Group D
There are no more undefeated teams in Group D after ratiopharm Ulm crushed previously-unbeaten Hapoel Bank Yahav Jerusalem 103-77 for its third consecutive win. Both teams now hold 3-1 records and a share of first place in the group. Ulm took the lead for good with an 11-0 first-quarter run, built a 16-point margin by halftime, and dominated the rest of the game. Per Guenther led six Ulm scorers in double figures with 19 points, and Raymar Morgan scored 17 in as many minutes. Curtis Jerrells netted 23 for the visitors. In a clash of two former champions, Valencia Basket held off Lokomotiv Kuban Krasnodar 64-73 and jumped into the tie for first place. Valencia led for the entire second half, and when the hosts came within 59-60 in the fourth quarter, Fernando San Emeterio hit a three-pointer and with help from Will Thomas and Antoine Diot secured its third win in four games for Valencia. Thomas had 15 points and 10 rebounds for the winners, while Lokomotiv registered its third consecutive defeat, dropping to 1-3 and fourth place despite Taylor Rochestie's 23 points.