Eurocup Round 7 co-MVP's: Billy Baron and Paul Stoll
Two MVPs in Round 7 of Eurocup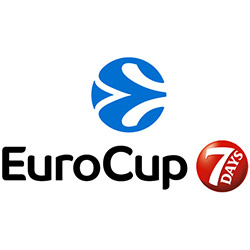 After seven rounds in the regular season, the standings already show four qualified teams for the Last 32. Others are trying to come back and still have options. Such is the case of Avtodor Saratov and Proximus Spirou Charleroi, winners this week thanks to stellar performances by Paul Stoll and Billy Baron, who led their respective teams with index rating performances of 36 apiece, the most among winning players this week, to earn weekly MVP honors. Baron scored 31 points, pulled 2 boards, dished 6 assists and drew 9 fouls to lead Charleroi to a valuable road win at ratiopharm Ulm. On his side, Stoll netted 21 points, pulled 4 rebounds, dished 7 assists, had 2 steals and drew 9 fouls as well to lead Avtodor against Besiktas Sompo Japan Istanbul. Two players had higher index rating performances of 38, but both lost their games: Kevin Pangos of Herbalife Gran Canaria Las Palmas and, who else, Loukas Mavrokefalidis of AEK Athens. The latter is already averaging a 33.3 after seven games.
Individual highs: Two players with 15 boards apiece
Baron and Pangos were the top scorers of the week with 31 points apiece, while Ryan Toolson of Zenit St. Petersburg followed suit with his 29. Two players pulled as many as 15 rebounds apiece this week: Achille Pollonara of Grissin Bon Reggio Emilia (10 defensive, 5 offensive) and Mouphtaou Yarou of Le Mans Sarthe Basket (9 defensive, 6 offensive). Andreis Mateiunas of Krasny Oktyabr Volgograd was the best passer of the week with his 11 assists. As many as four players excelled in defense this week with 4 steals apiece: Will Cherry of ALBA Berlin, Deividas Gailius of Lietuvos Rytas Vilnius, Vangelis Margaritis of PAOK Thessaloniki and Krisztian Wittmann of Szolnoki Olaj. Finally, Izzet Turkyilmaz of Galatasaray Odeabank Istanbul was huge under the boards stopping four shots with his 4 blocks.