Eurocup Round 5 co-MVPs: Earl Rowland, Loukas Mavrokefalidis
Two MVPs for Eurocup Round 5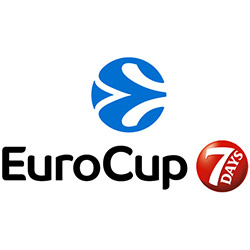 The halfway mark of the regular season was surpassed this week, and the race for the Last 32 is as busy as ever. Also, for the second week in a row, two players share weekly MVP honors as Louka Mavrokefalidis of AEK Athens and Earl Rowland of Hapoel Bank Yahav Jerusalem racked up respective 38 index rating performances, the most among all winning players this week. Mavrokefalidis is having his best personal season start ever so far, with an index rating average of 31.8 in five games. This week, he led AEK to a road win at Neptunas Klaipeda with his 27 points, 8 rebounds, 3 assists, 2 steals and 8 drawn fouls. On his side, Rowland led Hapoel over Krasny Oktyabr Volgograd with his 22 points, 7 rebounds, 12 assists and 6 drawn fouls. DJ Cooper of Krasny Oktyabr had in index performance rating of 39, the highest this week, but he was not eligible to be MVP because his team lost to Hapoel. Cooper had 27 points, 5 rebounds, 13 assists, 3 steals and 9 drawn fouls.
Individual highs: Jonathan Brockman of MHP Riesen Ludwigsburg, 17 rebounds
Cooper, Mavrokefalidis and Dominique Johnson of Banvit Bandirma led all scorers this week with 27 points apiece. Kostas Vasileiadis of PAOK Thessaloniki folowed close with just one point less, 26. Jonathan Brockman of MHP Riesen Ludwigsburg was huge under the boards with as many as 17 rebounds, 8 defensive and 9 offensive. Four more players followed him this week with 12 boards each - Randal Falker of SLUC Nancy, Kevin Tumba of Proximus Spirou Charleroi, Gasper Vidmar of Banvit and Latavious Williams of Unics Kazan. Cooper led all passers with his 13 assists and Rowland followed suit with his 12 decisive passes. In the defensive end, Zabian Dowdell of Zenit St. Petersburg led the steals rankings with 5, while Shawn James of Dominion Bilbao Basket also had 5 blocks under the glasses.