Eurocup Round 1 MVP: Raymar Morgan, ratiopharm Ulm
Raymar Morgan named MVP of Round 1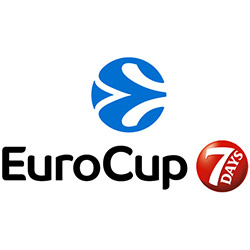 A new Eurocup season started this week with games across the continent on Tuesday and Wednesday. When the dust settled, Raymar Morgan of ratiopharm Ulm emerged as the first weekly MVP of the campaign as he led his team to a 87-68 home win over Umana Reyer Venice, racking up a 41 index rating performance, the most among all winning players this week. Morgan scored 22 points (9 of 12 twos), pulled 10 rebounds, dished 5 assists and had 3 steals for a solid performance. Despite Morgan's fine game, one name stood out this week as Loukas Mavrokefalidis of AEK Athens matched the alltime highest index rating performance of the competition with his 55, in an overtime home loss to Krasny Oktyabr Volgograd. Mavrokefalidis' monster performance included 42 points (12 of 18 twos, 2 of 2 threes, 12 of 15 free throws), 9 rebounds, 2 assists, 4 steals, 1 block and 11 drawn fouls, making it a night to remember. The 55 index rating performance ties the one that Priest Lauderdale of Lukoil Academic Sofia had also in the opening round of the 2003-04 season, 12 years ago. Ryan Toolson of Zenit St. Peterburg completed the top performances of the week with his index rating of 37 against Avtodor Saratov, thanks to his 35 points (8 of 11 threes), 4 rebounds and 5 assists.
Individual highs: Mavrokefalidis, 42 points
It comes as no surprise that Mavrokefalidis is also the top scorer of the week with his 42 points. Also interesting, the second best scorer of the week was Krasny Oktyabr's Tony Mitchell, who netted 39 points in the same game. Combined, Mavrokefalidis and Mitchell collected 81 points, which is the most since Bobby Brown of ALBA Berlin and Lance Williams of KK Bosna combined for 78 after a quadruple-overtime outing in December 2007. Mam Jaiteh of JSF Nanterre was the player with the most rebounds this week as he pulled 14 in a road win at Dominion Bilbao Basket. As many as five players dished 10 assists or more, the best of them being D.J. Cooper of Krasny Oktyabr with 15. Nine players had as many as 4 steals and four blocked 3 shots each: D'Or Fischer of Hapoel Bank Yahav Jerusalem, Harvey Grant of Neptunas Klaipeda, Jaiteh and Valerii Likhodei.