2014-15 All-Eurocup first, second teams announced
The two best teams of the season announced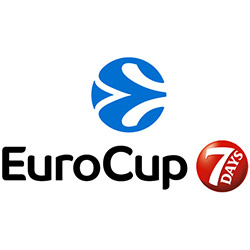 The 2014-15 Eurocup basketball season was packed with a lot of action and great players who proved their value in the competition. As it does every season, Euroleague Basketball honors 10 deserving stars as members of the All-Eurocup First and Second Teams. The players selected are those that excelled on the court throughout the season and led their respective teams in deep runs in the competition. This year's selection is loaded with new faces - only one of the 10 players chosen to the All-Eurocup teams had been there before. The selection includes former All-Euroleague First Team selections, Turkish Airlines Euroleague and Eurocup champions and of course, a Final Four MVP, Tyrese Rice of Khimki Moscow Region. He is joined on the All-Eurocup First Team by his Khimki backcourt mate, Petteri Koponen, forwards Sammy Mejia of Banvit Bandirma and Derrick Brown of Lokomotiv Kuban Krasnodar and center Walter Tavares of Herbalife Gran Canaria Las Palmas. The All-Eurocup Second Team features guards Bobby Dixon of Pinar Karsiyaka Izmir and Keith Langford of Unics Kazan, forwards Kyle Kuric of Gran Canaria and Anthony Randolph of Lokomotiv and center Sharrod Ford of Paris Levallois. Brown is the only player honored who chosen to a previous All-Eurocup team; he was a second-team selection in the 2012-13 season. Earlier in the week, Kristaps Porzingis of Baloncesto Seville was announced as the winner of 2014-15 Eurocup Rising Star Trophy and Aito Garcia Reneses of Gran Canaria was named Eurocup Coach of the Year. Still to be revealed is the identity of the 2014-15 Eurocup MVP.
FIRST TEAM

Rice (17.2 ppg., 5.5 apg., 18.6 PIR) leads the 2014-15 Eurocup in total performance index rating (410) and points (378) and is second in fouls drawn (105). He is also second in scoring (17.18 ppg.) and fourth in index rating (18.6). Rice recorded the best accumulated index and scoring average in both the quarterfinals (22.5 ppg., 24.5 PIR) and semifinals (25 ppg., 22.5 PIR) in leading Khimki to the Eurocup Finals. Rice is in his second Eurocup season; he led Lietuvos Rytas Vilnius to the semifinals in the 2011-12 season.

Koponen (13.4 ppg., 60% 2FG, 45.8% 3FG, 3.3 apg., 14.9 PIR) is tied for seventh in scoring (328) despite coming off the bench most of the season. He ranks seventh in three-pointers made (44) after hitting 45.8% of his attempts and improving that to 51.7% (15-of-29) in the elimination rounds. Koponen ranked second in assists-to-turnover ratio in the Last 32 (5) and third in the semifinals (4). He is the first player from Finland to earn All-Eurocup honors - and did so in his second season in the competition.

Mejia (13.7 ppg., 5.4 rpg., 3.3 apg., 18.2 PIR) led Banvit to the semifinals as its scoring and performance index rating leader. He ranked sixth in index average (18.2 PIR), eighth in three-point percentage (48.2%), fifth in free throws made (4.1 per game) with an outstanding 85.9% and eighth in fouls drawn (4.8 per game). Mejia was the third-best scorer in the eighthfinals (19.5 ppg.), seventh in the quarterfinals (15.5 ppg.) and second in the semifinals (18 ppg.). It was his fourth Eurocup season - his third with Banvit.

Brown (15.4 ppg., 62.4% 2FG, 5.2 rpg., 2.8 apg., 19.8 PIR) played 18 Eurocup games with Lokomotiv, in which his team was undefeated. He leads the 2014-15 Eurocup in performance index rating (19.8 PIR) and was fourth in two-pointers made (5.72 per game) after hitting 103 of 165 two-point shots (62.4%). He helped Lokomotiv break the Eurocup record for most consecutive wins, 20. Brown scored in double digits in 17 games and was third in index (20.9 PIR) in the regular season. Brown is his second Eurocup season and won the title with Lokomotiv in 2013.

Tavares (8.9 ppg., 72.1% 2FG, 7.8 rpg., 1.9 bpg., 16.5 PIR) is arguably the most effective player in the competition. He is second in index rating per 40 minutes (30.4) and first in rebounds (14.4 per 40 minutes) and blocks (3.42 per 40 minutes). Tavares leads the 2014-15 Eurocup in two-point shooting percentage (80-of-111, 72.1%) and blocks (1.86 bpg.) and despite averaging less than 22 minutes per game, he earned weekly MVP honors twice this season. Most important, Tavares led Gran Canaria to a 22-1 record, which allowed it to reach its first-ever Eurocup final.
SECOND TEAM

Dixon (16.8 ppg., 84.5% FT, 3.9 rpg., 5.2 apg., 2 spg., 18.8 PIR) led Karsiyaka to its first-ever quarterfinals appearance. Dixon ranks second in total index (375) and scoring (335), as well as fifth in assists (104). He led the 2014-15 Eurocup in three-pointers made (62) and ranked first in steals (39). He also led his team in scoring, assists, steals, fouls drawn and index rating. Dixon scored in double digits in all of his 20 games and was deadly from the free throw line, hitting 49 of 58 attempts (84.5%).

Langford (17.8 ppg., 3.4 rpg., 2.4 apg., 18.2 PIR) joined the competition in the Last 32 and helped Unics reach the semifinals. He ranked sixth in scoring in the Last 32 (19 ppg.), ninth in index rating (19.7) and third in free throws made (30). A former Alphonso Ford Trophy winner and All-Euroleague First Team selection, Langford scored in double digits in all of his games and led Unics in points per game at 17.8.

Kuric (13.6 ppg., 45.4% 3FG, 87.1% FT, 2.6 rpg., 13.3 PIR) is one of the main reasons Gran Canaria has reached its first Eurocup final. Kuric was deadly early in the season, hitting 17 of 27 three-pointers (63%) in the opening five games to get his team going. Kuric leads Gran Canaria in scoring (13.6 ppg.) and is second in index rating (13.3 PIR). He ranks fourth in three-pointers made (54) and is 13th in free throw shooting at 87.1%. Kuric made sure that his first-ever Eurocup season would be one to remember.

Randolph (12.7 ppg., 54.8% 3FG, 6 rpg., 1.4 spg., 1.6 bpg., 18 PIR) was a force for Lokomotiv; he won the first 14 games he played with the team. Randolph leads the 2014-15 Eurocup in index rating per 40 minutes (31.2 PIR) and is third in per-minute blocks (2.72 per 40 minutes). Randolph was deadly from the three-point line, tying for first place in shooting accuracy from beyond the arc (17-of-31, 54.8%). Randolph shocked Eurocup fans with his outstanding blocks and dunks - all in just 23 minutes per game.

Ford (15.1 ppg., 62.1% 2FG, 8.8 rpg., 18.6 PIR) led Paris to the Eurocup quarterfinals for the first time in club history. He led the 2014-15 Eurocup in rebounds (8.8 rpg.) and two-pointers made (6.55 per game), with an excellent 62.1% shooting percentage. Ford was the Last 32 leader in scoring (124), offensive rebounds (24) and two-pointers made (56). He stepped up when needed, scoring a career-high 35 points and earning Last 32 Round 6 MVP honors in a do-or-die road win against Besiktas Integral Forex Istanbul.