Eighthfinals Game 1 MVP: Sammy Mejia, Banvit Bandirma
Mejia is the MVP of Eighthfinals Game 1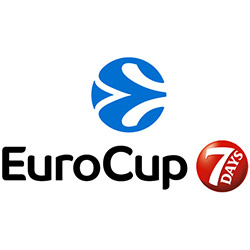 The first leg of the Eurocup eighthfinals came to an end, with some series looking more open than others. One of the games that was resolved with a double-digit margin was Banvit Bandirma's 71-55 home win over Virtus Rome, and the main factor in that win was guard Sammy Mejia, who also claimed MVP honors this week. Mejia led the way for the Turkish team with a performance index rating of 33, the most among all players this week, thanks to 18 points, 9 rebounds, 5 assists, 2 steals and 6 drawn fouls for a complete performance that could grant his team a ticket for the next round. Second in line was Bobby Dixon of Pinar Karsiyaka Izmir, who had a performance index rating of 27 behind his 20 points, 5 rebounds, 7 assists and 4 steals. His performance allowed Karsiyaka for a rare tie on the road against Lietuvos Rytas Vilnius that will be resolved next week in Bandirma. Two more players completed the top performances of the week with a 26 performance index rating each: Mardy Collins of PGE Turow Zgorzelec and Martynas Gecevicius of Lietuvos Rytas Vilnius.
Individual highs: Nemanja Gordic of Cedevita Zagreb, 12 assists
The list of top scorers this week was led by the last Turkish Airlines Euroleague Final Four MVP, Tyrese Rice of Khimki Moscow Region, who led his team to a narrow win with his 22 points. Dixon and Krunoslav Simon of Lokomotiv Kuban Krasnodar followed Rice in the weekly rankings with 20 points apiece. Collins had an impressive night despite his team's loss, and led the rankings for rebounds this week thanks to his impressive 13, followed closely by Brose Baskets Bamberg's Trevor Mbakwe and his 12. Nemanja Gordic of Cedevita Zagreb clearly emerged as the best passer so far in the eighthfinals with his impressive 12 assists while Khimki's Ruslan Pateev dominated under the glass, stopping as many as five plays thanks to his 5 blocks. After him, his teammate Sergey Monya with 4 helped Khimki tie for the second best blocks mark ever for a Eurocup team in a game, 11, only one short of the record shared by Spirou Charleroi and Le Mans Sarthe Basket.