Last 32 Round 1 MVP: Walter Tavares, Herbalife Gran Canaria Las Palmas
Tavares is the best player of the round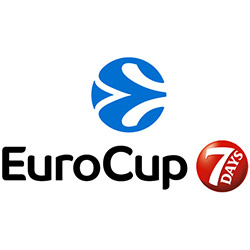 The biggest man in the Eurocup brought all his skill and talent to the floor on Wednesday. Walter Tavares dominated at both ends of the court to lead Herbalife Gran Canaria Las Palmas to a 76-91 road win at Dinamo Banco di Sardegna Sassari. That dominance translated into Tavares being named the Eurocup's Last 32 Round 1 MVP. The 22-year old center set a career high with 26 points on 11-of-14 shooting. He also made all 4 of his free throw attempts, collected 12 rebounds, dished 1 assist and blocked 1 shot, which resulted in a performance index rating of 40, which was not only the highest in Last 32 Round 1, but tied for the highest in the Eurocup this season and tied for the highest in ever for a Gran Canaria player in the Eurocup. Banvit Bandirma big man Chuck Davis had the second-highest index rating for the week with 37 in his team's 68-74 victory at Buducnost VOLI Podgorica. Stevan Jelovac of CAI Zaragoza was next with a 36 index. He went for 28 points and 9 rebounds in an 83-80 loss at Cedevita Zagreb. Rounding out the list of the week's top performances were Mardy Collins of PGE Turow Zgorzelec and Derrick Brown of Lokomotiv Kuban Krasnodar. Collins tallied 20 points, 11 rebounds, 9 assists and 4 steals for a 33 index in a 98-86 loss at the hands of Lietuvos Rytas Vilnius. Brown had 19 points and 9 rebounds for a 30 index in beating CSU Asesoft Ploiesti 59-85.
Individual highs: Evangelos Margaritis of PAOK Thessaloniki, 6 steals
Davis and Jelovac were Last 32 Round 1's joint top scorers with 28 points apiece. Three players topped the weekly rebounding charts with 12: Tavares, J.P. Batista of Limoges CSP and Trevor Mbakwe of Brose Baskets Bamberg. No player had more assists in the Last 32's opening games than Lietuvos Rytas guard Martynas Gecevicus's 10. Evangelos Margaritis of PAOK Thessaloniki was the week's best thief with 6 steals. CEZ Basketball Nymburk's Christian Burns, SLUC Nancy's Florent Pietrus and Krasny Oktyabr Volgograd's Romeo Travis shared the top spot for the week in blocks with 3. Nine players recorded double doubles in Last 32 Round 1: Tavares, the Limoges duo of Batista (21 points, 12 rebounds) and Adrien Moerman (12 points, 10 rebounds), Collins, Sharod Ford (17 points, 11 rebounds) of Paris Levallois, Vladimir Dragicevic (15 points, 10 rebounds) of Banvit, Mbakwe (10 points, 12 rebounds), Luke Harangody (10 points, 10 rebounds) of Valencia Basket and Gecevicius (16 points, 10 assists).