Regular Season Round 10 MVP: Milan Macvan, Partizan NIS Belgrade
Milan Macvan is the best player of the round in Eurocup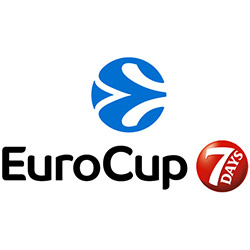 Although his team could not advance to the Last 32, Milan Macvan helped Partizan NIS Belgrade finish its Eurocup campaign strong with a performance that earned him the MVP honor for Round 10 of the regular season. Macvan made 8 of 9 two-point shots and 4 of 4 free throws while scoring 23 points in Partizan's 65-85 road win over CSU Asesoft. He added 8 rebounds and 6 assists for a performance index rating of 34, the best of the week on winning teams. Bracey Wright of also-eliminated Hapoel Bank Yahav Jerusalem matched Macvan's output in a 98-88 road loss to Lietuvos Rytas Vilnius while pouring in 30 points to go with 5 rebounds, 4 assists and a steal. Close behind them, with a 33 index rating, came Amedeo Della Valle of Grissin Bon Reggio Emilia with 30 points scored, including 7 of 10 three-point shooting, in a 101-87 road loss to Telekom Baskets Bonn. Last 32-bound Ondrej Balvin pulled 19 rebounds, the most in the Eurocup in a decade, despite his Baloncesto Seville's 91-82 road loss to CEZ Nymburk Basketball Nymburk, to have the week's fourth-best rating, 31. And Eugene Lawrence of Telekom Bonn completed the top five thanks to his 14 points, 10 assists and 5 steals for a 28 index rating in his team's win over Reggio Emilia.
Individual highlights: Ondrej Balvin, Baloncesto Seville, 19 rebounds
Balvin's 19 rebounds were the third-most in Eurocup history and the most pulled by any player since Lazaros Papadopoulos of Dynamo Moscow set the record of 22 on Dec. 7, 2004. After him, Levon Kendall of Herbalife Gran Canaria Las Palmas with a very good 15. Two players led all scorers with 30 points apiece, Della Valle and Wright. Tre Simmons of CEZ Nymburk was the best passer of the week thanks to his 11 assists, while Omar Cook of Buducnost VOLI Podgorica and Lawrence dished 10 each. Finally, Sergey Monia of Khimki Moscow Region stopped as many as 5 plays with the same number of blocks to lead the best sts this week.