Stage set for Round 2 of Basketball Champions League Qualification after second legs
he second leg of Round 1 of Qualification for the 2017-18 Basketball Champions League Regular Season took place on Thursday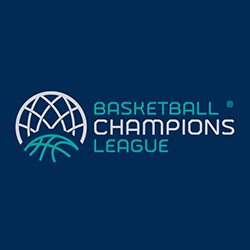 Avtodor Saratov vs Keravnos
It was bitter sweet for Kervanos who, despite winning 67-63 over Avtodor Saratov in the second leg, did not advance to Round 2 of the qualification.
Avtodor Saratov advance thanks to their 11-point victory on Tuesday, and will now take on Mornar Bar.
Vytautas vs Donar Groningen
After Vytautas taking the first leg by two, Donar Groningen reversed the result and made it look comfortable with a 84-61 victory to advance a step closer to the Regular Season.
Kalev Cramo vs Karposh Sakoli
Karposh Sakoli picked up the 81-78 win on the road but it will be Kalev Cramo who advance to face Alba Fehérvár Basket in the second round of qualifiers thanks to their 8-point win on Tuesday.
Tsmoki-Minsk vs Sigal Prishtina
Tsmoki-Minsk made it two wins from two with an 89-74 victory as Sigal Prishtina exited with a 22-point loss on aggregate.
MHP Riesen Ludwigsburg vs Bosna
MHP Riesen Ludwigsburg carried on from where they left off, with a 102-59 rout of Bosna for a 69-point aggregate victory, cruising from start to finish.
Telenet Giants Antwerp vs Lulea
Telenet Giants Antwerp secured their spot in the next qualifying round after defeating Lulea 83-74, to go two of two against the Swedish side.
Divina Seguros Joventut vs Dinamo Tbilisi
Divina Seguros Joventut secured an 86-66 win over Dinamo Tbilisi, for a 32-point aggregate win to set up a match-up with Kataja Basket on Saturday.
Benfica vs Kapfenberg Bulls
Though it lacked the drama of their first leg, Benfica once again managed to secure a victory, winning 67-62 over Kapfenberg Bulls.

AVTODOR SARATOV VS MORNAR BARKALEV KRAMO VS ALBA FEHERVARBENFICA VS LUKOIL ACADEMICTELENET ANVERSA VS NIZHNY NOVGORODMHP RIESEN LUDWIGSBURG VS CLUJ-NAPOCADONAR GRONINGEN VS BAKKEN BEARSTSMOKI MINSK VS BUDIVELNYKJOVENTUT BADALONA VS KATAJA