EuroLeague
26/11/2016, 11.15
Video
EuroLeague Regular Season, Round 9 MVP: Milos Teodosic, CSKA Moscow
Teodosic dominated the game against Baskonia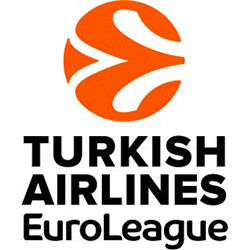 With the reigning MVP of the Turkish Airlines EuroLeague sidelined, Milos Teodosic took charge with a career night to lift CSKA Moscow to a convincing win and collect weekly MVP honors for Round 9. Teodosic, who delivered the 1,000th assist of his storied career early in the game, finished with a career-high 34 points plus 10 assists to lead the champs to a 112-84 victory over Baskonia Vitoria Gasteiz. His performance index rating of 43 was the highest in the EuroLeague this season and the second-best in CSKA's illustrious history. The All-EuroLeague guard made 5-of-6 three-pointers and was perfect on 7 free throw attempts in helping CSKA set a club record for scoring. Anadolu Efes Istanbul forward Derrick Brown had the second-highest index rating of Round 9 after starring in a 100-79 win against Crvena Zvezda mts Belgrade. Brown only missed 3 shots en route to 20 points, 9 rebounds, 4 assists and 3 blocks and an index rating of 38. Galatasaray Odeabank Istanbul swingman Blake Schilb powered his team past FC Barcelona Lassa 78-64 with 18 points, 8 rebounds, 6 assists and an index rating of 30, which was third-best for the week. Rounding out the list of Round 9's best were Ioannis Bourousis of Panathinaikos Superfoods Athens and Will Clyburn of Darussafaka Dogus Istanbul, who clashed in the Greek capital, where the Greens won 86-80. Bourousis had 18 points on 14-of-18 free-throw shooting and drew 13 fouls for an index rating of 28 and Clyburn totaled 26 points, 9 rebounds and an index rating of 26.
Individual leaders: Tyler Honeycutt of Anadolu Efes, 13 rebounds
Teodosic was both the top scorer and assist man for Round 9 with 34 and 10, respectively. He remains the league leader in assists with 8.2 per game and is now ranked fourth in scoring (17.3 ppg.) Unics Kazan guard and 2014 Alphonso Ford Top Scorer Trophy winner Keith Langford leads the league in scoring with 23.0 points per game. Tyler Honeycutt of Anadolu Efes hauled in 13 boards and now leads the league with 8.4 per game. No player collected more steals for the week than Stefan Jovic of Crvena Zvezda's 4. Baskonia guard Shane Larkin leads all players with 2.0 steals per game. Anthony Randolph of Real Madrid topped the Round 9 charts with 4 blocked shots. Art Parakhouski of Kazan and Alex Tyus of Galatasaray are the joint-leaders for the season with 1.7 blocks per game. Only three players recorded double-doubles in Round 9: Teodosic, Honeycutt (12 points, 13 rebounds) and Devin Smith (10 points, 10 rebounds) of Maccabi FOX Tel Aviv.