EuroLeague Regular Season Round 6 MVP: Nando De Colo, CSKA Moscow
De Colo is the MVP of Round 6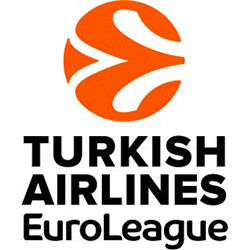 It is only appropriate that the reigning Turkish Airlines EuroLeague MVP becomes the first player to earn single-round MVP honors twice during the 2016-17 season. CSKA Moscow superstar Nando De Colo captured his second such title in Round 6 after leading the champs to a 91-90 victory over 2015 champion Real Madrid on Friday in the Russian capital. De Colo had another fantastic shooting night as he amassed 28 points and a performance index rating of 35, which was the highest among all players in Round 6, fourth-best in the EuroLeague all season and just 1 off his career high. De Colo made 3 of 4 three-pointers, was perfect on 9 trips to the foul line and dished 6 assists. The weekly runner-up for the MVP honor was forward Chris Singleton of Panathinaikos Superfoods Athens. Singleton posted an index rating of 34 in the Greens' 83-75 overtime victory over Maccabi FOX Tel Aviv. Singleton set career-highs in both index rating and scoring with 26 points. He missed only 3 shots from the field and added 6 rebounds, 2 blocks and 9 fouls drawn, from which he made 9 of 13 free throws. Kruno Simon flirted with a triple-double in EA7 Emporio Armani Milan's 105-92 win over Anadolu Efes Istanbul. The veteran swingman posted 14 points, 9 rebounds and 8 assists in racking up an index rating of 29. Rounding out the top performances of Round 6 were Unics Kazan's red-hot scorer Keith Langford, who was the Round 5 MVP, and Zalgiris Kaunas forward Brock Motum, each with index ratings of 26. Langford carried Unics to its second straight win, 65-62 over Crvena Zvezda mts Belgrade, with 23 points and 5 rebounds. Motum posted a career-high 26 points on near-perfect shooting in a 92-86 loss at FC Barcelona Lassa.
Individual leaders: Sinan Guler of Galatasaray Odeabank Istanbul, 12 assists
De Colo was not only the Round 6 MVP, but also its top scorer with 28 points. The reigning Alphonso Ford Top Scorer Trophy winner is now averaging 21.7 points per game, which is second to only Langford's 24.5 this season. Maccabi swingman Devin Smith collected 12 rebounds to top the weekly charts. Crvena Zvezda center Ognjen Kuzmic leads all players with an average of 8.5 rebounds through six games. Galatasaray Odeabank Istanbul guard Sinan Guler set a career high with 12 assists in his team's maiden victory. October MVP Milos Teodosic of CSKA remains atop the standings this season with an average of 8.2 assists per game. Guler joined Maccabi center Colton Iverson as the Round 6 co-leaders with 4 steals each. Guler is now tied for third in the league with 1.7 steals per game. Barcelona playmaker Tyrese Rice leads the league with 2.2 steals per game. Alex Tyus of Galatasaray and Latavious Williams of Unics shared the Round 6 high with 4 blocks apiece. Tyus sits atop the full-season charts with 2 blocks per game. Three players recorded Round 6 double-doubles: Khem Birch (16 points, 11 rebounds) of Olympiacos Piraeus, Devin Smith (11 points, 12 rebounds) and Nicolo Melli (10 points, 10 rebounds) of Brose Bamberg.