2015-16 Alphonso Ford Top Scorer Trophy: Nando De Colo, CSKA Moscow
Nando De Colo is the top scorer of the Euroleague season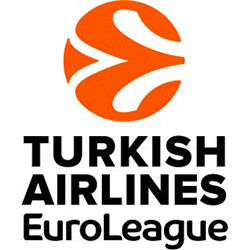 After averaging the most points this decade by any player qualified to win the scoring title, Nando De Colo of CSKA Moscow has earned the Alphonso Ford Top Scorer Trophy for the 2015-16 Turkish Airlines Euroleague. The Ford Trophy is awarded annually to the Euroleague player with the most points averaged over a minimum number of games. It is the Euroleague's only end-of-season award that does not rely on voting by fans, media or coaches, but is based solely on statistics. De Colo averaged 18.92 points over 25 games this season to win the award by a healthy margin. De Colo scored in double digits in all but one of those 25 contests. He also reached the 20-point mark nine times and was one of only three players to score 30 or more points in a game this season, too. De Colo's scoring average is the third highest since the award was introduced in 2004 and the highest for a Ford Trophy winner since Marc Salyers recorded 21.8 points per game in 14 appearances for Chorale Roanne of France in the 2007-08 campaign. De Colo becomes only the third player in the award's history to also lead his team to the Euroleague Final Four that same season.
De Colo opened the season in style, scoring at least 17 points in each of his first four games, including 22 in a Round 3 home win against Brose Baskets Bamberg. He did not score fewer than 14 points in any game during the regular season. He went for 27 points – on 7-for-9 two-point and 3-of-5 three-point shooting – in an 88-100 road win against Bamberg and had 18 points in Round 10 on the road at Unicaja Malaga as CSKA clinched first place in the group. Once the Top 16 tipped off, De Colo turned it up a notch. He scored 20 in the opening loss to Khimki, but CSKA bounced back right away as De Colo poured in 28 points in a 95-81 home win over defending champion Real Madrid. After missing a pair of games due to an ankle injury, De Colo returned in Round 5 and went on to score 19 points in each of the next four games, helping CSKA assume first place in its Top 16 Group. De Colo's highest-scoring game of his Euroleague career came in March when he dropped 30 points in Round 10 of the Top 16, an overtime loss at FC Barcelona Lassa. De Colo finished the Top 16 strong by netting 67 points over his last three games, including a 26-point performance in a 100-86 Round 13 win over Zalgiris Kaunas that allowed CSKA to clinch home-court advantage in the playoffs. In the playoff series against Crvena Zvezda Telekom Belgrade, De Colo came up big when needed most, scoring 20 points in a Game 3 win in the Serbian capital. On his way to winning the scoring title, De Colo had the most total points (181) and second-best scoring average (18.1 ppg.) of all players in the regular season (181) and led the Top 16 with an average of 21 points per night. For the season, he made 110 of 197 two-point shots (55.8%) and 43 of 93 attempts from downtown (46.2%). De Colo was the league runner-up in both free throws made (124) and attempted (137), while converting 90.5% from the foul line. His CSKA teammate Milos Teodosic was second in this season's scoring race with 16.3 points per game, followed by Alexey Shved (15.92 ppg.) of Khimki Moscow Region and Malcolm Delaney (15.76 ppg.) of Lokomotiv Kuban Krasnodar.
A go-to scorer for much of his career, De Colo grew up with Cholet Basket, which as a 20-year old he led to the 2008 Leaders Cup title. He joined Valencia Basket in 2009 and helped that club win the 2010 Eurocup, while earning All-Eurocup First Team honors. De Colo made his Euroleague debut in 2010-11 season, during which he averaged 10.1 points off the bench and helped Valencia reach the playoffs. He spent the next two seasons in the NBA, first with San Antonio and then Toronto, averaging 3.8 points and 1.7 assists in 119 games between the two teams, before joining CSKA in the summer of 2014. De Colo has also been a regular with the French national team, with which he has collected a gold medal at EuroBasket 2013, silver at EuroBasket 2011, and bronze at EuroBasket 2015.
De Colo is the tenth different Ford Trophy winner in the 12 years since the award's inception. The first nine were: Igor Rakocevic, who is the award's only three-time winner (2007, 2009, 2011); Taylor Rochestie of Nizhny Novgorod (2015); Keith Langford of EA7 Emporio Armani Milan (2014); Bobby Brown (2013) and Bo McCalebb (2012), both of Montepaschi Siena; Linas Kleiza of Olympiacos Piraeus (2010); Salyers; Drew Nicholas of Benetton Treviso (2006); and Charles Smith of Scavolini Pesaro (2005).
The trophy is named in memory of Alphonso Ford, who died of leukemia in September 2004 after a brilliant career in which he was the competition's leading scorer twice, in 2000-01 and 2001-02, both seasons with Olympiacos. He subsequently led Siena in scoring as it reached the 2003 Final Four. The Ford Trophy is the first in a series of Euroleague end-of-season honors. Other awards to be announced shortly include the Euroleague Best Defender, the Euroleague Rising Star and the All-Euroleague honorees. The MVP award will be announced at the Turkish Airlines Euroleague Awards Ceremony on Thursday, May 12 during the Final Four in Berlin. The Alexander Gomelskiy Coach of the Year Trophy and the Euroleague Club Executive of the Year are post-season awards.