Euroleague Top 16, Round 10: Ioannis Bourousis, Laboral Kutxa Vitoria Gasteiz
Bourousis is the MVP of Round 10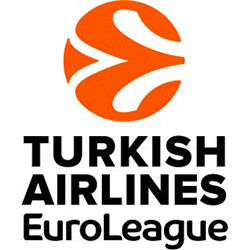 The Ioannis Bourousis revival continued Thursday as the Laboral Kutxa Vitoria Gasteiz center led his team to a resounding victory in the Game of the Week, collected his 10th double-double and recorded weekly MVP honors for the third time this season. Bourousis starred in the 98-83 victory over Khimki Moscow Region with 16 points, 13 rebounds and 6 assists for a performance index rating of 29, which was the most of any Turkish Airlines Euroleague player on a winning team for Round 10 of the Top 16. He made 5 of 8 two-pointers and 2 of 4 shots from downtown in 30 minutes of action. At age 32, Bourousis, who helped Real Madrid win the Euroleague crown last season, is posting the best numbers of his career with 14.4 points, a league-high 9.5 rebounds and 2.1 assists per game. This marks the sixth time that Bourousis has been the weekly MVP in his 14-season Euroleague career. Veteran forward Paulius Jankunas of Zalgiris Kaunas had the highest index rating of the week, but it wasn't enough against Real Madrid, which win 75-90 in Kaunas. Nevertheless, Jankunas missed only 2 shots in scoring a season-high 21 points and also collected 8 rebounds and 4 assists for a performance index rating of 35. Nando De Colo scored a career-high 30 points and posted an index rating of 33 in CSKA Moscow's dramatic 100-98 overtime loss at FC Barcelona Lassa. De Colo, the league leader in scoring and index rating, also had 7 rebounds, 3 assists and 2 steals in the game. Rounding out the list of Round 10's top performers were rookie forward Quincy Miller of Crvena Zvezda Telekom Belgrade and veteran forward Georgios Printezis of Olympiacos Piraeus. Miller helped his team beat Panathinaikos 69-67 with 16 points on 7-of-7 free throw shooting, 5 rebounds, 2 assists, 2 steals and 3 blocks to compile an index rating of 27. Printezis amassed 19 points and 10 rebounds for his first double-double of the season in a tough 72-71 loss at Brose Baskets Bamberg. He filled out the rest of the stat sheet with 3 assists, 1 steal and 1 block for a performance index rating of 26.
Individual leaders: Nando De Colo of CSKA Moscow, 30 points
De Colo entered the week as the league's top scorer and added to his lead by scoring a career-high 30 points, which was the most of any player in Top 16 Round 10. In doing so, he lifted his scoring average to 19.3 points per game. Bourousis's 13 rebounds were the most in this round and strengthened his hold on first place in the full season standings with 9.5 rebounds per game. No player dished more assists in Round 10 than Khimki point guard Tyrese Rice's 10. Anadolu Efes Istanbul's Thomas Heurtel leads all players with 7.4 assists per game. Barcelona hero Justin Doellman and Efes swingman Cedi Osman tied for the weekly lead in steals with 4 apiece. Panathinaikos guard Nick Calathes remained atop the full season charts with 2.1 steals per game. Fenerbahce big man Ekpe Udoh added 4 blocked shots to his collection on Thursday to lead all players for the week. His full-season average of 2.4 blocks per game is not only best in the league, but among the best in competition history. Five players collected double-doubles in Round 10: Bourousis, Printezis, Doellman (12 points, 10 rebounds), Victor Claver (12 points, 12 rebounds) of Lokomotiv Kuban Krasnodar and Jack Cooley (16 points, 10 rebounds) of Unicaja Malaga.