EuroLeague
05/03/2016, 10.20
Video
Top 16 Round 9 MVP: Luigi Datome, Fenerbahce Istanbul
Datome finished with 29 of evaluation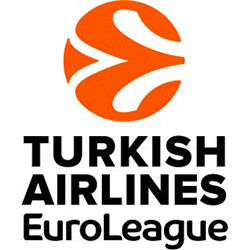 Forward Luigi Datome was the catalyst for a dominant second half on Friday as Fenerbahce Istanbul staged a 72-65 come-from-behind win over Crvena Zvezda Telekom Belgrade. His fantastic effort resulted in a career-high in scoring and the weekly MVP honor for Top 16 Round 9, a first in Datome's six-season Euroleague career. Datome shined with 27 points, 5 rebounds, 3 assists and 3 blocks in compiling a performance index rating of 29, which was best among all players on winning teams this week. He scored 22 of his points in the second half, during which he made 6 of 7 two-point shots and did not miss on 3 attempts from behind the arc. Datome joined Jan Vesely as the only Fenerbahce players to win weekly MVP honors this season. The highest index rating of the round came from Brose Baskets Bamberg guard Nikos Zisis, who scored a career-high 25 points in a 75-73 loss at Zalgiris Kaunas. He made 7 of 10 two-point shots, 2 of 4 threes and was perfect on 5 trips to the foul line. Zisis drew 10 fouls and dished 4 assists in compiling a performance index rating of 35. Cedevita Zagreb guard Jacob Pullen tied a personal best and a club-record with 26 points in a 77-83 loss at the hands of Darussafaka Dogus Istanbul. Pullen was perfect on 5 two-point attempts and 7 trips to the foul line in addition to grabbing 4 rebounds and making 3 assists for an index rating of 33. Real Madrid center Gustavo Ayon was once again a beast in the paint, though his team fell 87-96 to CSKA Moscow. Ayon made 8 of 13 shots in tallying 20 points, 12 rebounds, 3 steals and an index rating of 29. Rounding out the list of the rounds top performances were Malcolm Delaney of Lokomotiv Kuban Krasnodar and Paulius Jankunas of Zalgiris Kaunas, who each had index ratings of 27. Delaney led Lokomotiv to a 61-76 road win over Anadolu Efes Istanbul in the Game of the Week. He played all but 4 minutes and amassed 19 points, 5 rebounds, 6 assists and 2 steals. Jankunas posted 17 points and 13 rebounds in a historic night as his team bested Bamberg. The veteran forward scored his 2,000th career point and moved into third place on the competition's career rebounding charts.
Individual leaders: Paulius Jankunas of Zalgiris Kaunas, 13 rebounds


The 27 points from weekly MVP Datome were not only a career high, but the most in the Euroleague for the round. CSKA Moscow's Nando De Colo is the leading scorer for the season with 18.6 points per game. Jankunas's historic night was also good for the most rebounds in this round, 13. One of the two men ahead of Jankunas on the all-time list is also this season's top rebounder, Laboral Kutxa Vitoria Gasteiz center Ioannis Bourousis, who pulls 9.4 per game. Nick Calathes of Panathinaikos Athens and Sergio Llull of Real Madrid shared the weekly assists honors with 10 apiece. Calathes climbed into third place for the season with 6.6 assists per game. Anadolu Efes Istanbul's Thomas Heurtel leads all players with 7.6 assists per game. Calathes, who is the Euroleague leader in steals this season with 2.05 per game, was one of three players with 4 thefts in Round 9. He was joined by teammate James Gist and Khimki Moscow Region guard Alexey Shved. Datome tied Real Madrid forward Andres Nocioni for the weekly lead in blocked shots with 3. Fenerbahce big man Ekpe Udoh is comfortably ahead in the full-season count with 2.3 blocks per game. Five players collected double-doubles in Round 9: in points and assists, Llull (14 and 10) and Calathes (10 and 10 ), and in points and rebounds Ayon (20 and 12), Jankunas (17 and 13) and Tyler Honeycutt (11 and 10) of Khimki Moscow Region.