Euroleague Regular Season, Round 6 MVP: Luke Harangody, Darussafaka Dogus
Harangody is the MVP of Round 6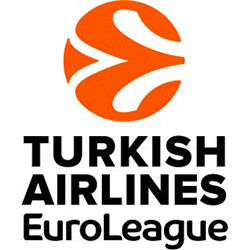 Intent on pushing Turkish Airlines Euroleague newcomer Darussafaka Dogus Istanbul closer to the Top 16, forward Luke Harangody put on a career-best performance Friday to walk away with the MVP honor for Regular Season Round 6. Harangody was everywhere while leading Darussafaka to 60-68 victory over Dinamo Banco di Sardegna Sassari, his team's second consecutive road win. He scored career-high 26 points despite not taking any free throws thanks to his 7-for-11 two-point and 4-for-5 three-point accuracy. Harangody also pulled 13 rebounds and dished 3 assists for a performance index rating of 35, the best of the week among all Euroleague players. His big night gave Harangody career-highs in points, offensive and defensive rebounds, assists and index rating. The second highest performance index rating of the week was produced by Quincy Miller of Crvena Zvezda Telekom Belgrade, which came up short in 78-75 loss at Strasbourg. In just his fourth Euroleague game, Miller shined with 23 points on 5-of-10 shooting from downtown, 12 rebounds and 4 blocks for an index rating of 32. Next was Gustavo Ayon of Real Madrid, who amassed 14 points, 15 rebounds, 2 steals and a block in compiling an index rating of 30. Despite his efforts, the defending champs fell 82-85 at home to Khimki Moscow Region. Fenerbahce Istanbul guard Bobby Dixon was red- hot in the first quarter in the Game of the Week, which his team won 67-84 on the court of FC Bayern Munich. Dixon finished with career highs of 25 points, 7 three-pointers made and a performance index rating of 29 to go with 4 rebounds, 5 assists and 2 steals. Rounding out the list of Round 6's top performers was Fabien Causeur of Laboral Kutxa Vitoria Gasteiz, who posted an index rating of 28 in leading his team to a 94-82 victory over EA7 Emporio Armani Milan. Causeur had 22 points on 4-of-5 three-point shooting, 4 rebounds, 3 assists and 2 steals.
Individual leaders: Gustavo Ayon of Real Madrid, 15 rebounds
Harangody and Pinar Karsiyaka Izmir point guard Joe Ragland shared the title of Round 6's top scorers with 26 points. Ragland's former teammate, EA7 Milan swingman Alessandro Gentile, remains the Euroleague's leading scorer with an average of 20 points per game. The 15 rebounds corralled by Madrid's Ayon were the most by any player in Round 6. Laboral Kutxa center Ioannis Bourousis spends another week atop the Euroleague leader board with an average of 9.3 rebounds per game. Zvezda point guard Stefan Jovic was the only player to reach double digits in assists in Round 6. After his 10-assist outing, he tops the full-season charts with 8.3 assists per game. Nobody collected more steals in Round 6 than Darussafaka's Manuchar Markoishvili, who produced career-best 5. Markoishvili is now tied with Dinamo Sassari guard David Logan for the most steals in the regular season with averages of 2.5 per game. Miller's 4 blocks for Zvezda were the most in Round 6; his average of 2.3 blocks per game is second in the regular season only to injured Olympiacos Piraeus center Patric Young, who had 2.6 per game. Six players posted double doubles in round 6: Harangody, Ayon, Miller, Bourousis (14 points, 13 rebounds), EA7 Milan big man Stanko Barac (16 points, 12 rebounds) and Anadolu Efes Istanbul center Bryant Dunston (12 points, 11 rebounds).