EuroLeague
14/11/2015, 11.39
Video
Euroleague Regular Season, Round 5 MVP: Nicolò Melli, Brose Baskets Bamberg
Melli is the MVP of Round 5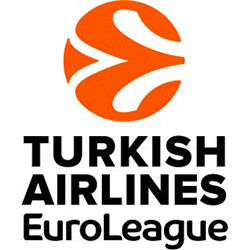 Brose Baskets Bamberg forward Nicolò Melli chose his first official game ever as a visitor in his native Italy to put on his best Turkish Airlines Euroleague performance yet and walk away with the MVP of the Week honor for Regular Season Round 5. Melli's 26 points gave him one career-high in his sixth Euroleague season, and the other was a performance index rating of 37, the best among all Euroleague players this week. He made 7 of 10 two-point shots, 3 of 3 from the arc, and 3 of 3 from the foul line. Melli's inspired performance also included 8 rebounds, 4 assists and 3 steals as Bamberg ran away in the second half to defeat host Dinamo Banco di Sardegna Sassari 73-90. The runner-up for the Round 5 honor was Mindaugas Kuzminskas, who stood out by leading Unicaja Malaga to an impressive 78-86 road win over CSKA Moscow. Kuzminskas finished with 22 points and just 3 missed shots, as well. He added 4 rebounds, 3 assists and 3 steals for a performance index rating of 30 in a memorable win for his team. On the heels of the worst performance of his Euroleague career, Nobel Boungou-Colo bounced back with his best to lead Limoges CSP to a 74-65 victory over EA7 Emporio Armani Milan on Thursday. Boungou-Colo matched his career highs with 18 points, 5 assists and 2 blocks and set a career high with 4 three-pointers to finish with a performance index rating of 28. Rounding out the top performers of the week were Bamberg's Bradley Wanamaker and Round 2 MVP Ioannis Bourousis of Laboral Kutxa Vitoria Gasteiz. Wanamaker produced 18 points, 8 assists and 2 steals for an index rating of 27. Bourousis posted a 26 index in a 76-67 road loss at Cedevita Zagreb. He scored 14 points, grabbed 8 rebounds and sent 3 assists.
Individual leaders: Stefan Jovic of Crvena Zvezda Telekom Belgrade, 19 assists
Twenty-six points was the high mark in Round 5 and was accomplished by three players: Melli, Jacob Pullen of Cedevita Zagreb and Jayson Granger of Anadolu Efes Istanbul. Alessandro Gentile of EA7 Emporio Armani Milan remains the top scorer for the season with an average of 19.2 points per game. Mateusz Ponitka of Stelmet Zielona Gora collected 12 misses in a loss at Pinar Karsiyaka Izmir to lead the Round 5 rebounders. Bourousis is the season-long rebounding leader with an average of 8.6 boards per game. Stefan Jovic of Crvena Zvezda not only was the weekly leader, but his 19 assists set a new Euroleague single-game record. Jovic is tied with Efes point guard Thomas Heurtel for the full season lead with 8 assists per game. EA7 Emporio Armani Milan guard Charles Jenkins recorded 5 steals to lead all Round 5 players. His 2.2 steals per game rank third among all players this season. David Logan of Dinamo Banco di Sardegna Sassari leads all players with an average of 2.6 steals per game. Gustavo Ayon of Real Madrid rejected 4 shots against Strasbourg, which were the most of any player all week. Patric Young of Olympiacos Piraeus remains the leading shot-blocker in the Euroleague this season with 2.6 rejections per game. The week's lone double-doubles came from Dario Saric (11 points, 10 rebounds) of Efes and Miro Bilan (17 points, 10 rebounds) of Cedevita.