EuroLeague
24/10/2015, 10.05
Video
Euroleague Regular Season, Round 2 MVP: Ioannis Bourousis, Laboral Kutxa Vitoria Gasteiz
Ioannis Bourousis had 44 points of evaluation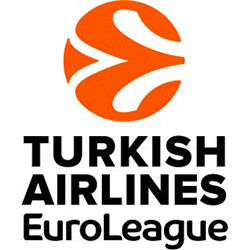 Ioannis Bourousis delivered a vintage performance on Friday night to inspire Laboral Kutxa Vitoria Gasteiz's thrilling 96-89 overtime home win against Olympiacos Piraeus and earn himself the weekly MVP award for Regular Season Round 2. The veteran big man was simply unstoppable as he dominated the boards against his former team, registering a double-double of 28 points, his career high in his 224th Euroleague game, to go with 12 rebounds. Bourousis made 6 of 11 two-point shots, 2 of 3 from long range, and 10 of 13 at the free throw line. He also collected 4 steals, 3 assists, 2 blocks, and drew 7 fouls for a performance index rating of 44, the highest of this young season. It was also the highest of the reigning Euroleague champion's distinguished Euroleague career, during which he had previously claimed three weekly MVP awards. James Gist of Panathinaikos Athens sits in second place for the week after a career-best 34 index rating in a victory over Pinar Karsiyaka Izmir. The Panathinaikos forward had career-best scoring night, too, with 27 points on 8-for-10 two-point accuracy and 3-for-3 from three-point range. He also pulled down 6 rebounds. FC Barcelona Lassa center Samardo Samuels had an index rating of 33, after his 23 points, 6 rebounds and 4 blocks in win over Stelmet Zielona Gora. Matt Lojeski of Olympiacos Piraeus amassed a 32 index rating in his team's overtime defeat against Laboral Kutxa. The Reds' swingman netted his Euroleague career-high, 28 points, by hitting 6 of 7 three-pointers, grabbing 7 rebounds and dishing 4 assists. Rounding out top five in the weekly MVP standings is EA7 Emporio Armani Milan's big man Milan Macvan, who had 18 points, 9 rebounds, 3 assists in 5 drawn fouls for career-best index rating of 28 in a road loss against Anadolu Efes Istanbul.



Individual leaders: Samardo Samuels 4 blocks

Bourousis and Lojeski, on opposite sides of the game in Vitoria, share the honors as this week's tops scorers with 28 points each. Lojeski leads the Euroleague after two weeks with 21 points per game. Bourousis, along with James Augustine of Khimki Moscow Region, and Shane Lawal of FC Barcelona Lassa, led all rebounders in Round 2 of the regular season with 12 apiece. Bourousis and Kenny Gabriel of Pinar Karsiyaka Izmir are competition's top rebounders with 10 per night. Nick Calathes of Panathinaikos Athens and Sergio Rodriguez of Real Madrid each had 11 assists, the most among all players in Round 2 games. Thomas Heurtel of Anadolu Efes Istanbul leads Euroleague with an average of 11.5 assists. Four players had 4 steals this week: Bourousis, Deon Thompson of FC Bayern Munich, Mantas Kalnietis of Zalgiris Kaunas and David Logan of Dinamo Banco di Sardegna Sassari. Two players – John Bryant of FC Bayern Munich and Bradley Wannamaker of Brose Baskets Bamberg – lead the Euroleague with 3 steals per game. Barcelona's big man Samuels had 4 blocks to top the Round 2 standings in that category. Brent Petway of Dinamo Sassari leads all blockers after two games with 3 per contest. There were five double-doubles in Round 2. Milos Teodosic of CSKA Moscow had 10 points and 10 assists, the rest of them came in points and rebounds categories. In addition to Bourousis, Gabriel had 17 and 10, Augustine 15 and 12, and Alex Renfroe of Bayern 10 and 11.